EIT & EIC Women Entrepreneurship and Leadership Programme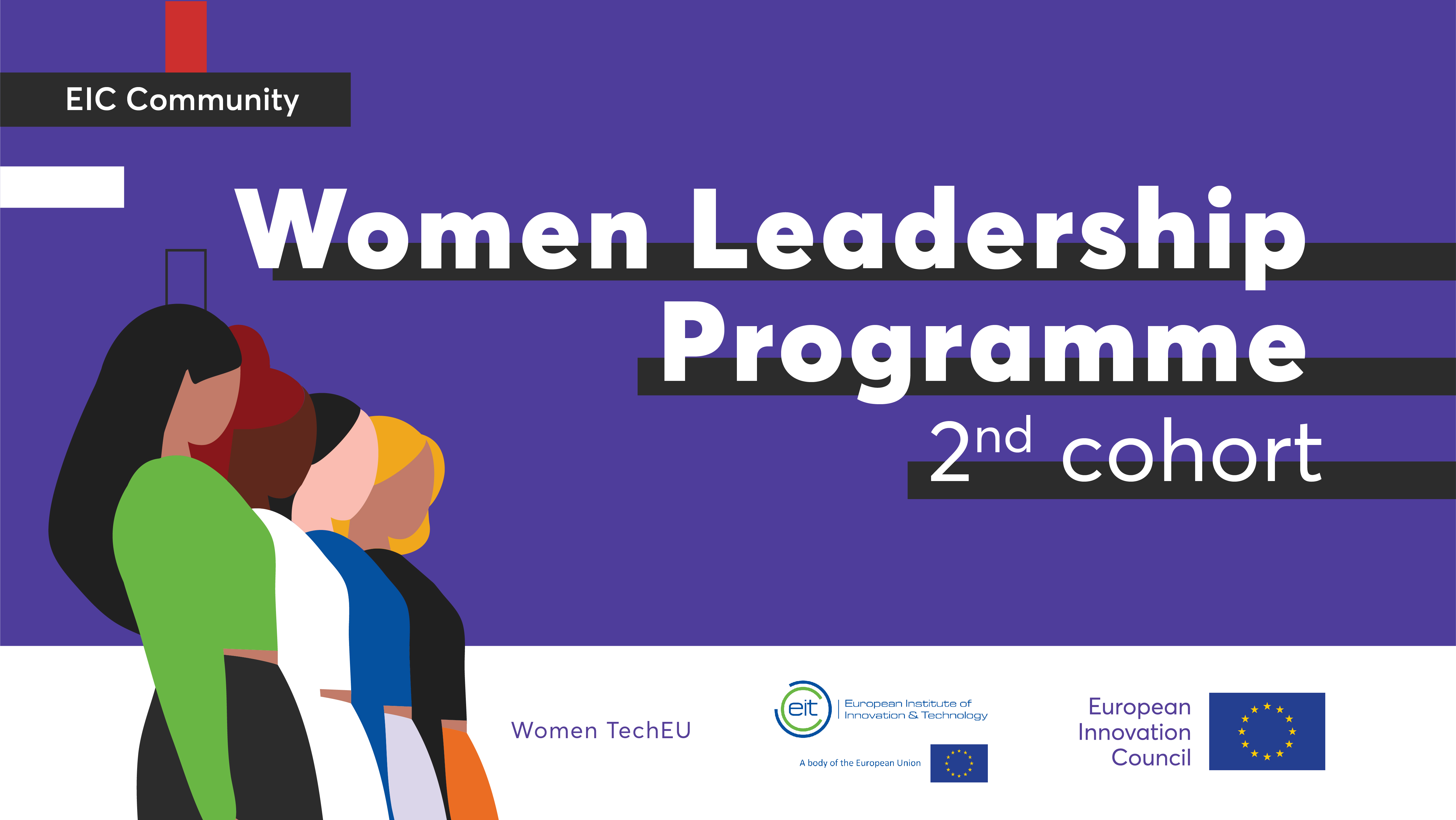 Mentoring and coaching programme in partnership with the European Innovation Council
The European Institute of Innovation and Technology is committed to build the presence of women in different roles within the entrepreneurship and innovation ecosystem.
To further support this endeavour the EIT has launched an EIT Community Programme that seeks to create a venture capital industry more gender-balanced, fuel the participation of women to deep-tech start and power women-led start-ups to enter new markets. 
Within the initiative, EIT has partnered with the European Innovation Council (EIC) to create synergies between their powerful entrepreneurship communities and enhance the participation of EIT alumni in the EIC Women Leadership Programme. 
About
The programme offers EIT community women access to a broad network, mentoring, coaching and training opportunities to take their managerial and leadership skills to the next level. Selected participants will be matched with mentors and experts to boost their potential and expand the opportunities to engage with peers and key stakeholders for their development. 
Key components of the programme 
Training Sessions: a dedicated journey of sessions 
Networking Events: to expand your contacts into the business world 
Coaching Scheme: focus on your business challenge 
Mentoring Scheme: to unlock your career development 
The services of the programme will be offered jointly by EIC and EIT and are open to women leading start-ups and research teams. 
If this is a challenge for you, apply until 11 April 2022!
The programme is also currently looking for mentors and coaches to support participants in the programme. If you are an experienced entrepreneur, investor, innovator or senior manager (M/F) motivated to make a lasting impact on the role of women in innovation and entrepreneurship? Then we want you as a mentor or coach!
Apply here to be mentor or coach 
Who can participate
The programme targets EIT women beneficiaries, specifically:
Businesswomen in management positions in start-ups, who want to strengthen their skills in any specific business area and expand their network;
Women researchers involved in research projects aspiring to lead the transition of their research into businesses or to build their skills to take further managerial responsibilities in the research centre.
EIT women beneficiaries have: 
Participated in a EIT* entrepreneurship support activity (i.e. incubation, acceleration or business creation related);
Completed an EIT labelled or non-labelled education programme.
*The programme accepts applicants supported by any of the EIT communities: Food, Manufacturing, Climate-KIC, Health, Raw Materials, Digital, InnoEnergy, Urban Mobility.  
What does the program offer? 
Selected participants will get the chance to participate in trainings, networking events and be invited to take part in a personalised mentorship and business-coaching scheme.
For more information on this programme visit the programme at EIC website. 
Selection criteria
Applications will be evaluated in terms of:
The impact participation in the WLP programme might have on your career path; 
Your motivation to participate.
Networking events
Dedicated networking events take place throughout the programme to increase the participants' network and heighten their visibility. Keynote speakers will be invited to give speeches and facilitate networking moments.
Training scheme
In addition to the networking events and mentorship scheme, the participants have access to a tailor-made training scheme on topics like negotiation, pitching and leadership styles.
Key dates

Image
Applications close – 11th April
Selection of beneficiaries – 28th April
Onboarding in the programme – 1st May
Training sessions – 15th May – 31st October
End of the programme – 31st October 
Mentorship and business-coaching scheme
Selected females will have the chance to tap into a pool of experienced mentors across sectors and geographies. These mentors, ranging from experienced CEOs and investors to VCs and serial entrepreneurs, the EIT and EIC will help the participants along the way and offer support in defining their goals. Each participant will also work with an expert EIT business coach who will help identify new business opportunities and potentials.
What is in for you as mentor? 

What is in for you as coach?

Contribute to bringing a positive change to the mentee's life;

Be exposed to fresh perspectives, ideas and approaches;

Expand your professional network;

Be at the forefront of increasing the role of women in innovation and tech

Develop your personal leadership and coaching styles.

Contribute to bringing a positive change to the mentee's life;

Be exposed to fresh perspectives, ideas and approaches;

Expand your professional network;

Be at the forefront of increasing the role of women in innovation and tech; 

Contribute to solve specific business problems of start-ups participating

What can mentees expect?

What can coaches expect?

Improve self-confidence and break inner blocks for a sustained success

Determine and define a passionate vision, set goals and work towards achieving them

Increase their professional networks.


 

Fine-tune your company strategy

Support to position in the right market

Aid on your pitch and negotiations

Discover innovation opportunities

Tackle potential glass-ceiling issues

What are we looking for?

What are we looking for?

Change-makers who want to have a long-term impact on women's participation business within the innovation and tech

Entrepreneurs, investors, innovators and senior managers (M/F) that have

Extensive managerial experience

An extensive and diverse professional network

Experience in dealing with multiple issues in a fast-paced growth environment

And that have the following skillset

360º approach to leadership and personal development

Empathy, integrity, credibility, diligence, independence and patience

A 'champion' for gender equality/diversity

Sensitive to work-life balance topic

Business experts to question aspirations and challenge assumptions, in a face-to-face setting;

Entrepreneurs, investors, innovators and senior managers (M/F) that have:

At least 5 years experience in:

in executive management, responsible to start new business and serve new markets investment for industrial innovation;

demonstrating hands-on experience with fast growth companies;

resolving executive management issues in early stage SME context;

demonstrating a personal network of international contacts with businesses and markets.



 

Level of commitment

Level of commitment

We're expecting mentors to dedicate a minimum of 2 hours per month from the date of agreement to end of 2022. Besides the direct commitment with their mentee,
mentors will also be invited to participate in networking events to explore possible synergies with other mentors and/or mentees. Mentoring is provided pro-bono.

 

We're expecting coaches to dedicate a 3 days of coaching per participant to cover previously agreed issues with coachee. A coach will be assigned a maximum of 3 coachees

Coaching is provided for a fee. 

Business coaches shall be remunerated at a fixed price of EUR 1 000 per day worked.

Mentor / mentee matching

Coach / coachee matching

The EIT will match the profiles of the mentors and mentees, providing a set of potential matches to the mentees. Several networking exercises will be organized to ensure the best choice is made.


 

EIT will make the coachee a shotlist with the potential coaches to review and agree.
Then the EIT will approach the coaches to confirm their availability and interest to take the case. Both will participate in an 'acquaintance and chemistry call' to make a final selection.
Before the assignment, coach and coachee will agree on a coaching plan containing the objectives and activities. Upon receipt and approval of the coaching plan, EIT will prepare the coaching contract with the coach.

Application requirements

Application requirements

Only CVs in English and with 3 pages as maximum length will be considered.

Only CVs in English and with 3 pages as maximum length will be considered.