Take part in the implementation of the EIT Health Regional Innovation Scheme (RIS) programme in 2019!
Call for organisations in Slovenia and Estonia to cooperate with EIT Health as EIT Health Hub within the EIT Regional Innovation Scheme (RIS) programme in 2019.
Receive support for the development of your local innovation ecosystem! Help EIT Health find the best talents, entrepreneurs and start-ups from your region/country. Support innovative SMEs to create new economic activity and new jobs locally. Team up with one of the biggest healthcare initiatives worldwide. Learn and adopt best in class business creation and education programs!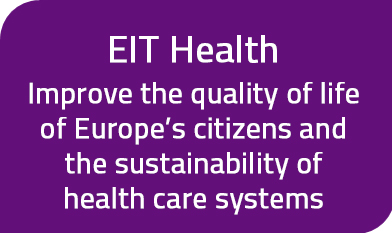 EIT Health RIS activities focus on the following strategic areas of action in 2019:
Mapping local innovation ecosystem in EIT RIS regions, identifying key players, unique assets and selling points as well as focus areas and investment needs. Identifying connection points and synergies between regional capabilities and EIT Health strategic goals
Providing opportunities for key stakeholders in RIS regions to get engaged with EIT Health activities and participate in certain EIT Health programs
Organising outreach events where EIT Health representatives can meet with RIS stakeholders (such as start-ups, regulators, policy decision makers, hospitals, researchers, industrial representatives) to introduce EIT Health, present its programs and opportunities as well as to present achievements and success stories.
Ensuring knowledge transfer towards EIT RIS regions to strengthen innovation ecosystems
Provide comprehensive support and mentoring services for RIS regions how they can develop regional innovation ecosystems by mobilizing local KTI actors, working out joint development strategies and implement join local projects.
Engaging key national and regional policy makers within the activities of EIT Health in order to support fund interconnectivity and the set-up of local ESIF projects which can be directly linked with EIT Health programs. Support the participation of local institutions in activities and finance the adaptation and integration of best in-class programmes of EIT Health into the local innovation ecosystem.
Deadline for application: Tuesday, 29 January 2019, 17:00 (CET)
For further enquiries please contact: Monika Toth - Programme Manager, EIT Health, monika.toth@eithealth.eu
EIT Regional Innovation Scheme
EIT RIS is the EIT Community's outreach scheme. The scheme enables the transfer of good practices and know-how from the EIT's unique approach to boosting innovation. The EIT RIS was introduced in 2014 to share good practices and experience emerging from EIT Community activities and to widen participation in our activities across Europe.
---
---