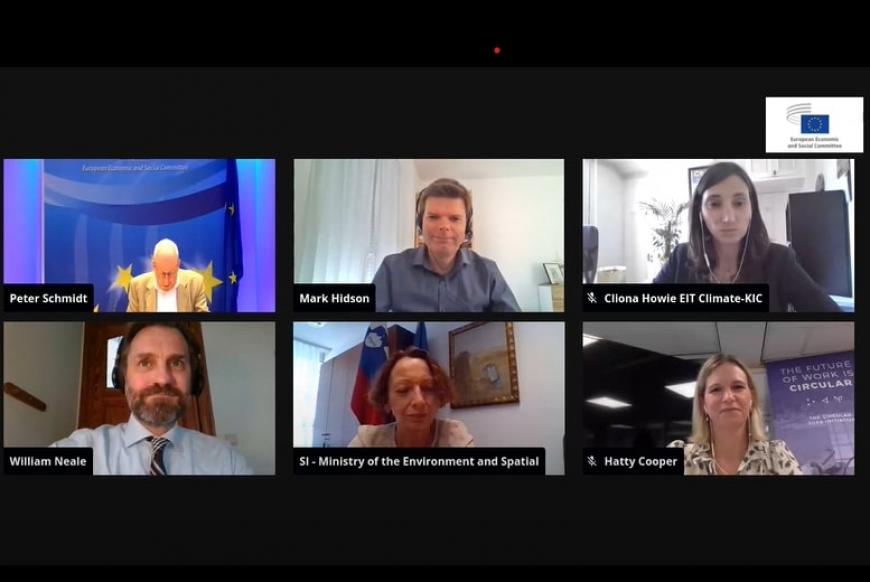 "Bold leaders are needed to drive a collaborative approach that will push all of us to leave our comfort zone and open up a new world of sustainable possibility," said Head of Circular Economy Cliona Howie during an online side-event at this year's digital version of the UN High Level Political Forum on Sustainable Development (HLPF). Co-organised by the Government of Slovenia and the European Economic and Social Committee, the webinar aimed to discuss how to make circularity work for a just transition to climate neutrality.
The HLPF annual meeting is the core United Nations platform for follow-up and review of the 2030 Agenda for Sustainable Development and its 17 Sustainable Development Goals (SDGs). Usually hosted in New York City, it was held online this year due to the COVID-19 pandemic. Cliona Howie presented examples on how EIT Climate-KIC is working to leverage collective knowledge and expertise to ensure that the post-COVID-19 recovery is aligned with climate and SDG commitments.
''What we are offering on the ground is system innovation as a service to help Europe deliver a transformative green recovery'' said Howie. Systemic change, she added, is "a shift from 'singular interventions' – which might provide amazing solutions in a single place, at a single time, for a single thing – to something that is really addressing the complexity of the global climate challenge."
"As we plan an economic recovery, it is critical that we look beyond the easier, carbon-intensive options. The answer lies in circular, systemic solutions that will transform our society in an unprecedented way," said Howie.
Working "where the challenge sits inside an ecosystem"
In practice, EIT Climate-KIC designs cross-cutting holistic programmes (so called Deep Demonstrations) based on the needs, demands, and contexts of a certain ecosystem. The aim of the "Circular, Regenerative Economies Deep Demonstration" is to help challenge owners – which can be public authorities at the national, regional or city scale, but also entire value chains – "understand what a circular transition looks like, how they would implement it, how they would even start pulling it together, how they would meet objectives that really help them to design a resilient sustainable future, all while meeting very pressing climate targets," explained the expert.
The approach aims to identify the scenarios, pathways and available options for system change consistent with a 1.5-degree future. It is already being tested in many places around the EU including in Slovenia, where nine ministries are working together with EIT Climate-KIC, EIT Raw Materials and the EU's Joint Research Centre on 17 inter-connected programmes across multiple levers of change from education to policy, consumer behaviour, innovation support and capacity building. "Slovenia has been an incredibly exciting journey thus far and we're really looking to implementing on the ground very quickly," said Howie.
Listen to the full recording of the webinar with Cliona Howie as well as Peter Schmidt (Sustainable Development Observatory of the European Economic and Social Committee EESC), William Neale (European Commission Directorate General Environment), Meta Gorišek (State Secretary from Ministry of Environment and Spatial Planning of the Republic of Slovenia), Janja Kreitmayer McKenzie (EU Coordination and International Affairs Service, Ministry of Environment and Spatial Planning of the Republic of Slovenia), Hatty Cooper (Circle Economy, Coordination Group of the European Circular Economy Stakeholder Platform), Mark Hidson (ICLEI – Local Governments for Sustainability) and Stefan Back (EESC).