EIT Climate-KIC receives €8.4 million for innovation projects that stimulate job creation and support a post COVID-19 green recovery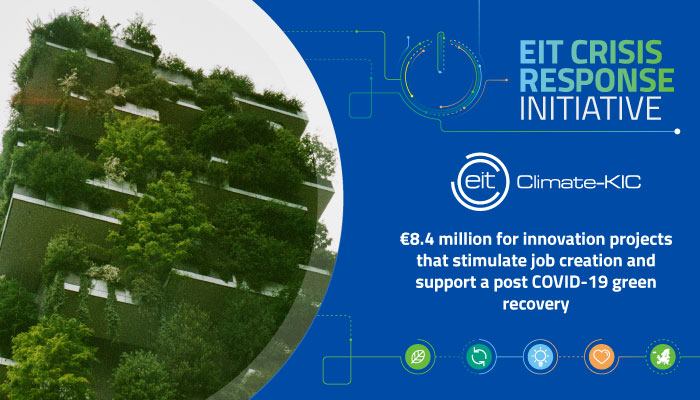 Eleven climate innovation projects across Europe tackling COVID-19 related challenges have been selected to receive funding as part of the "Pandemic Response Projects", one of the two instruments of the EIT Crisis Response Initiative.
The EIT Climate-KIC team chose the projects with the highest potential for job creation and economic regeneration to contribute to the European Union's response to the COVID-19 pandemic.
Selected from among 137 applicants, the 11 successful proposals from nine countries respond to emergence from the pandemic's impact and propose climate solutions in line with the need for green regeneration. They are innovation activities in circular economy, built environment and the financial system, three areas that were prioritised due to their high potential impact on economic growth, job creation and wellbeing. They also align with EIT Climate-KIC's systemic approach to innovation and have clear objectives to support a just and people-centred transition towards a net-zero-carbon, circular economy.
The range of innovation projects receiving support include:
a financing mechanism led by Politecnico Di Milano in Italy that aims to stimulate a green economic recovery and promote a people-centered transition in the city of Milan, with the potential for wider scalability beyond the region,
a proposal by Citizens' Association SMART AP – Laboratory for Social Innovation Skopje in North Macedonia to design a solution to finance the sustainable transformations of five cities in five Balkan countries (Križevci, Maribor, Niš, Sarajevo, and Skopje) and help them achieve carbon neutrality by 2030 by catalysing the funding of climate mitigation projects,
a project by the European Technology Platform For The Future Of Textiles And Clothing in Belgium that aims to generate new circular and resilient business models for the clothing industry by providing designers, brands and manufacturers with recommendations to advance circularity, increase transparency and reduce carbon emissions.
We learned from this crisis that we cannot afford to go back to business-as-usual. That's why climate action through innovation is at the heart of the European recovery plan. I was very impressed by the quality of the submissions we received and I am convinced that the successful projects have a great potential to not only mitigate the socio-economic impact of COVID-19 by supporting job creation, but also to unlock opportunities to help create systems resilience in the European Union and advance the green recovery

Kirsten Dunlop, CEO of EIT Climate-KIC
The Post-COVID-19 Regeneration Call 2020 was designed to attract the most ambitious and innovative climate solutions to support European economic recovery. It is part of the EIT Crisis Response Initiative, a €60 million initiative launched on 14 May 2020 with two main tracks of activities to be implemented by the EIT's Knowledge and Innovation Communities. EIT Climate-KIC will receive a total of EUR 8.4 million, which will be split between the 'Pandemic Response Projects' described above and 'The Venture Support' instrument which will back climate innovation start-ups, scale-ups and SMEs that have been enormously impacted by the COVID-19 crisis. The successful companies for this second call will be announced on 7 August.
Find the full list of 'Pandemic Response Projects' selected by EIT Climate-KIC here