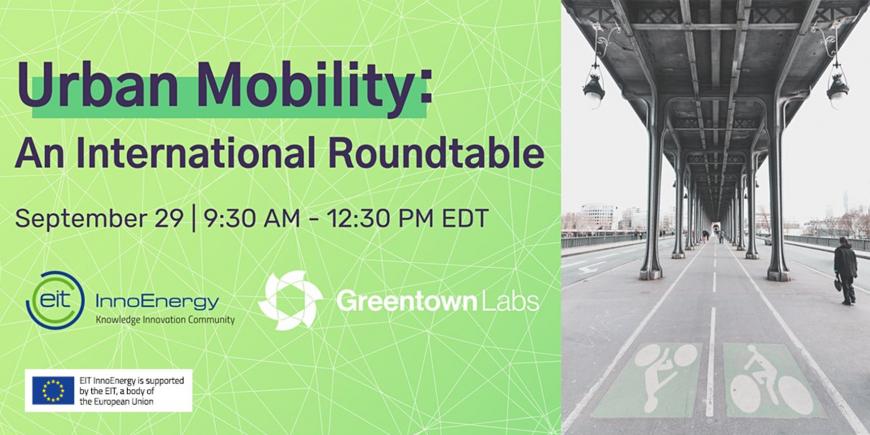 On 29 September 2020, EIT InnoEnergy and its partner Greentown Labs in Boston, US, presented a transatlantic roundtable on the future of urban mobility.
The highlight of the event was the finale a fast-paced virtual pitch and product demonstration by seven outstanding new start-ups from Germany, Spain, Estonia and the US, who answered rapid-fire questions from a live panel of international investors who specialise in energy and cleantech.
Meet the start-ups:
The Urban Mobility market
Secondly, there was an introduction to the Urban Mobility market. This is just one of the various topics related to energy that EIT InnoEnergy invests in and accelerates. Head of Mobility, Jennifer Dungs provided a framing, including an analysis that the time is now to create and support a guided approach to urban mobility. We will reach this goal with more sustainable technologies for purpose-built vehicles with:
Innovation in materials, production, and re-use,
Improvements in batteries and standardised, swappable/modular solutions,
New solutions to decrease operating costs and increase the pace of scaling, and
A coordinated approach among mobility players, cities, micromobility and other urban mobility modes.
Read more about EIT InnoEnergy
The market for mobility solutions includes both public administrations and private companies. A presentation by Brendan Mehaffy, of the city of Buffalo, New York; Chris Osgood of the city of Boston, MA; and Andria Smith, sustainability manager of the international delivery company UPS. Each outlined the need for rapid solutions to the problems of energy, pollution, and quality of life that can be applied to urban mobility, efforts they have already been made and opportunities for the future especially addressing the last mile problems.
Innovators and investors
The third area was an introduction by EIT InnoEnergy's Investment Portfolio Manager, Matias Torrellas, who shared that there were 150 companies in the EIT InnoEnergy portfolio in a variety of sustainable energy areas, and that they would be accessible in the upcoming annual EIT InnoEnergy conference called TBB Connect (4 and 5 November). He introduced Timo Möller Partner and Head of McKinsey Center for Future Mobility, with whom EIT InnoEnergy has been working closely together in digging into trends in investments and the markets. Then we were joined by Paul Breslow of EDF Innovation Director, Jose Javier Salinero Rodriguez, Sr. Investment Manager, Repsol, and Hector MacQuarrie, Sr. Investment Associate, Shell Ventures. The international panel introduced themselves, the general investing interests of their funds, and later ed all the start-ups after their pitches.
Over 500 attendees from 54 countries
The on-line format, which is becoming familiar in 2020, allowed participation to live from over a dozen cities in the US and Europe, including audience questions from throughout the world, and allowed start-up product demonstrations along with traditional PowerPoint presentations. And the entire programme was introduced and hosted dynamically by Sofie van den Enk, journalist and TV presenter.
The final minutes of the event were given back to the audience to vote on their favourite pitch. The winner was DUCKT, provider of micromobility charging infrastructure for the future in urban spaces.