EIT InnoEnergy investing to future-proof its Master programmes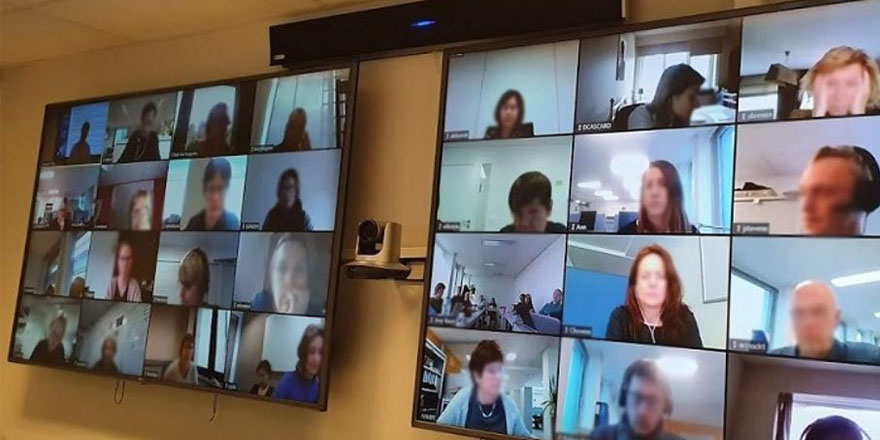 EIT InnoEnergy Master School is committed to ensuring the high-quality delivery of its education as new circumstances unfold, such as COVID-19.
Therefore, it has recently announced an investment in state-of-the-art hybrid learning facilities at some of its partner universities. The challenge has been to create a classroom model that allows students to toggle back and forth between in-person and virtual formats. With the new hybrid learning classroom, students get all the flexibility they need and a consistent experience – regardless of how they attend lectures.
What is a hybrid learning classroom?
The hybrid virtual classroom was created to give the same level of interaction and classroom feel, whether you are in the actual room or digitally present. It utilises cloud-based technology with adaptive software to enhance communication not only between student and lecturer but also amongst the students themselves – which will be a mix of in-person & digital participants. Interactive tools and features embedded in the software ensure the students are engaged in peer-to-peer interactions that span both the virtual and physical space.
Why was this hybrid classroom created?
Safety is of the highest priority – yet the classroom experience should not suffer during social distancing regulations. Some students can physically attend class while others want the same classroom experience when they must attend remotely. This collaborative classroom creates the same engagement level as having all students physically present (through the use of screens for digital participants) while keeping everyone safe.
As a result, students will still take part in the essential team activities planned for their programme and have all the support and guidance from the lecturer that they are accustomed to receiving – with a programme that is COVID-19 resilient.
Which universities offer this new classroom experience?
The hybrid learning classroom experience will be offered at five EIT InnoEnergy Master School partner universities: KTH Royal Institute of Technology, UPC Universitat Politècnica de Catalunya, École Polytechnique, IST Instituto Superior Técnico and KU Leuven. These high-tech classrooms will hold 25 physical participants each and are scalable for 24-50 remote ones located anywhere in the world!
The future of learning is here!
Face-to-face teaching will certainly remain relevant for students who see the value in it.  Yet EIT InnoEnergy is committed to offering an alternative to those unable to physically attend – no matter what the reason. Dr Frank Gielen, EIT InnoEnergy Master School Education Director, said: 'The COVID crisis has forced universities to take a quantum leap into the digital delivery of learning activities, and the next evolution is here for our students. Now they can have the same high quality, engaging experience whether they are physically in the classroom or not – with all the flexibility and adaptability that the students require to achieve their educational goals. Through the hybrid-learning classroom and the challenge-based learning, we are setting the reference for the university of the future.'