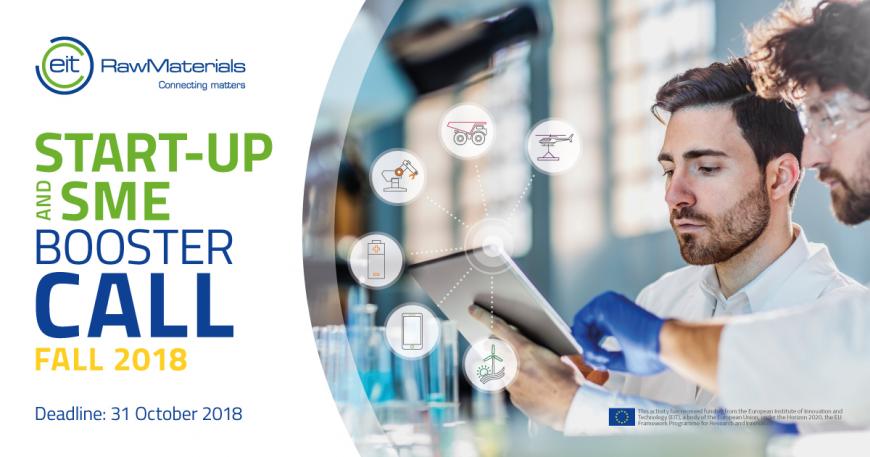 Application deadline is 31 October 2018
EIT RawMaterials mission
EIT RawMaterials mission is to support innovation that develops raw materials into a major strength of Europe. It aims to promote new solutions that provide a cost-efficient, secure, sustainable supply and use of raw materials, throughout the value chain, ranging from exploration, mining, and processing of raw materials, to their recycling and integration into a Circular Economy (e.g. design and manufacturing of tools and equipment, smart products and services, end-of-life product management).
EIT RawMaterials Start-up Booster Programme
The EIT RawMaterials 'Start-up Booster Programme' is one of the EIT RawMaterials financial instruments dedicated to Start-ups and SMEs. It provides support to existing start-ups to develop innovative products/services that can produce impact in the raw materials sector.
In addition to funding and customised services, the selected start-ups will also get access to EIT RawMaterials partner network, participating in networking events, as well as gaining visibility through EIT RawMaterials network channels. Eventually, supported start-ups and SMEs may join the EIT RawMaterials network as associates or core members to fully benefit from the ecosystem.
Thematic areas
The Call targets innovation in the raw materials value chain, ranging from:
1. Exploration and raw materials resource assessment
2. Mining in challenging environments
3. Increased resource efficiency in mineral and metallurgical processes
4. Recycling and material chain optimisation for End-of-Life products
5. Substitution of critical and toxic materials in products and for optimised performance
6. Design of products and services for the circular economy
Bio-based materials are excluded unless they fall under topic 5.
More specifically, the Start-up and SME Booster Call Fall 2018 has a strong focus on Batteries materials and technology around them. We would like to augment the EIT RawMaterials Battery ecosystem with start-ups and SMEs who may find synergy with our industry partners (see Figure 1).
Amount of funding
1. Financial support up to EUR 30 000
2. Eligible costs follow the rules under the EIT framework agreements (FPA and SGA), please see FAQ and the Call's Terms & Conditions.
There is no formal minimum requirement of co-funding; however, projects that will show a co-funding and ask support for non-recurring costs (not for shareholders personnel costs) will be positively evaluated, as an indication of the commitment of the company in the initiative.
How to apply
To apply for the Start-up and SME Booster Call Fall 2018, fill in and submit the following:
After finalising your proposals, you can upload them on the application page.
Further information
To get in touch with your regional Innovation Hub (Co-Location Centre) of the EIT RawMaterials, check the list of Innovation Hubs (CLCs) and countries covered by them:
You may also check
---
Subscribe to the EIT Newsletter to get the best of the EIT Community's news in your inbox once each month.
Do you use social media? Follow us and get updates in your news feed.