Meet EIT InnoEnergy student Farhan Farrukh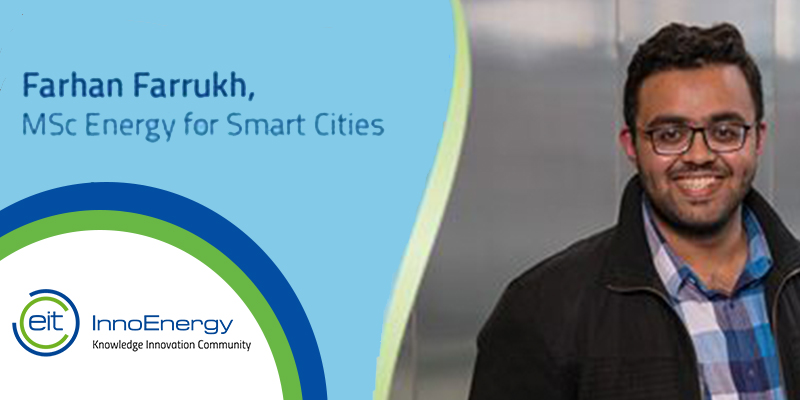 EIT InnoEnergy catches up with Farhan Farrukh, #InnoVoice and EIT InnoEnergy Master's student, who is studying MSc Energy for Smart Cities, at KU Leuven in Belgium. He moved from Pakistan to join the programme in a bid to gain more technical skills and boost his career. Here he tells us more.
Why did you apply for the EIT InnoEnergy Master's Programme?
'I graduated as electrical engineer from one of the state universities in Pakistan and then moved to Saudi Arabia to explore opportunities. After five months working as an engineer I was offered a job in Pakistan as a protection and control design engineer.
My goal was to learn more technical aspects but the job became quite boring and I felt I needed something more challenging. This was when I found the EIT InnoEnergy Master's programme.
The programme is very varied, which appealed to me. It's enabling me to explore different options in order to find the right career path. There's a good balance in terms of learning the technical skills and making sure we build other business-related skills to make a smooth transition into the workplace.'
'The programme has opened my eyes to other opportunities'
'At the very beginning of the programme I was thinking about working within the technology sector but didn't look beyond this. The programme has opened my eyes to other opportunities here in Europe, from starting my own business to joining a consultancy.
It has been amazing to be able to work with people who are so experienced and have achieved great things in their own field. Seeing what they have achieved has really inspired me to think about what it is I want to do and to go for my dreams.'
Identifying my strengths
'As part of the EIT InnoEnergy Game-changing impact programme I completed The GC Index®, a scientific framework, which enables individuals, teams and organisations to identify how they make their impact and how they can change the game.
Going through my profile report and gaining insights into my strengths has been incredibly enlightening. It has given me a huge sense of reassurance about the career path I am hoping to follow and it has also highlighted some areas for development, which I can focus on during my studies.
My highest scores are for the roles of the Game Changer (individuals who see possibilities and focus on transforming the future) and the Polisher (individuals who focus on continuous improvement).
Whilst I could identify the Polisher element, as identified in my report, the Game Changer is something I aspired to be. However, talking through my profile has opened my eyes to the fact I can and do indeed bring fresh new ideas to the table.
The results and coaching session has got me thinking about how I work with others and the type of people I would need around me if I wanted to create a start up. I am looking forward to exploring this in more detail through my coaching sessions.'
What is next?
'There are lots of people we can talk to – lecturers, past and current students and industry experts – so there is always help there if we need it. It is great to be learning alongside peers and I'm looking forward to helping each other to improve, as well as learning through lectures and workshops.
Already I am starting to better understand my contribution to a team. It will be interesting to put this to practice more in our project work.'
---
Catch up with the latest news from the EIT Community in the Newsroom.
Subscribe to the EIT Newsletter to get the best of the EIT Community's news in your inbox once each month.
Do you use social media? Follow us and get updates in your news feed.