On 5 October 2022, INNOVEIT Bilbao will bring together the women of the EIT Community to address the question of how to support women in innovation and entrepreneurship, building a stronger network for the female leaders of the future.
Sara Guimarães Gonçalves, co-founder and CEO of elderly healthcare start-up Actif, will give her views on what it means to be "entrepreneurial" and promote equal opportunities for women in Europe at INNOVEIT Bilbao. But first, she has joined us for an interview where we discuss the reasons behind her impressive career switch, her new-found drive to improve elderly care, and what she sees as her ultimate goal: wielding technology for social good.
EIT: You do many things at the same time. For example, you are the co-founder and CEO of Actif. How would you explain what you do to an industry outsider? 
Sara Guimarães Gonçalves: In fact, as this is an early-stage company, we do many things: products and business and everything. I am the co-founder, having started Actif with my partner Dami (who is the CTO), and my CEO role means I am managing the company and bettering the team.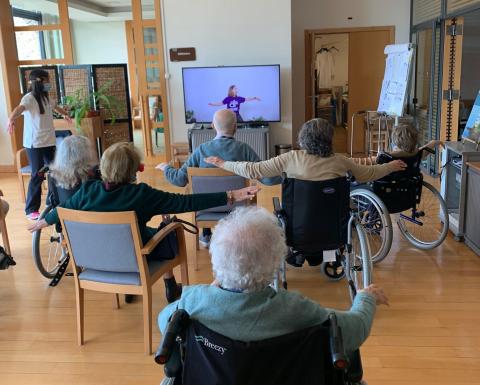 EIT: What does Actif do as a company? 
Sara Guimarães Gonçalves: Actif promotes activities for older adults, so our goal is to promote a healthier aging process by bringing cognitive and physical activities that are inclusive to every condition.
EIT: Seniors are a group often overlooked in our societies. Why is elderly care important for you? 
Sara Guimarães Gonçalves: Unfortunately, I think what's happening with seniors, especially in nursing homes, is really a humanitarian crime because most people are depressed, they don't want to be there, and they are deprived of activities. So, for us, it's important to contribute to this field.
EIT: You received the EIT Woman Leadership Award in 2019. Today, still, women are underrepresented in executive positions and the STEM fields in general. Have you seen any change in the past few years? 
Sara Guimarães Gonçalves: I've seen a lot of women who want to start their own companies (which is great) and I think initiatives like the EIT promote more women to go for it, especially women from universities. I also see a lot more taking the risk of coming to the market.
At the same time, I think we are seeing a bit of social washing when it comes to big corporations, because many women are coming to the board and leadership positions just because it looks nice. I think this could start as a negative but, in the end, could end up being a positive thing for future generations and could inspire them to become leaders and work more in the STEM fields.
"I really like to build technological solutions for social impact problems."
EIT: Your original background is in sustainable agriculture. In fact, you won the Woman Leadership Award with a company called Trigger Systems. Now you do something completely different. What led you to work in the fields you're working in now? 
Sara Guimarães Gonçalves: To be honest, I was never sure about what I wanted to do, and Trigger was an incredible journey to go through. But I think what I found out is that I really like to build technological solutions for social impact problems and that's what I did with Trigger and what I'm doing in Actif. But, in this aging field, in this industry, I have a very personal connection to the topic because my grandmother was diagnosed with Alzheimer's a few years ago and I followed the whole process, saw the limitations that we had in this industry, and felt the pain we had within the family, and that inspired me to build this and it is a big privilege to be able to work full-time for this industry now.
EIT: Trigger Systems joined more than one EIT accelerator programme. How did this help with finding customers, partners, or investors? And how did it further develop your venture?
Sara Guimarães Gonçalves: I think honestly it was game changing for developing as a company. We built a huge network of investors, partners, and clients. EIT InnoEnergy was an investor in our board that helped us not just with capital but with introductions, taking us to events, and personally I've participated in all of them, and I think I've always learned something new.
But also, it challenged our business so being able to connect with all the mentors always helps us improve what we are doing and is usually something that I recommend that other start-ups do.
EIT: You are going to be one of the panellists at INNOVEIT Bilbao. What are you looking forward to during this event?
Sara Guimarães Gonçalves: First, I'm looking forward to going back to Bilbao because I've been several times with EIT Food in the acceleration programmes and it's always great to see their people. And then, of course, connect and meet new founders, maybe connect with investors as well, and – who knows? – connect with EIT Health, something that I've never had the chance to do before. But, maybe now with Actif, this makes sense for us to do.
Want to hear Sara Guimarães Gonçalves at INNOVEIT Bilbao?
Join the event in person or online and become a part of the EIT community!