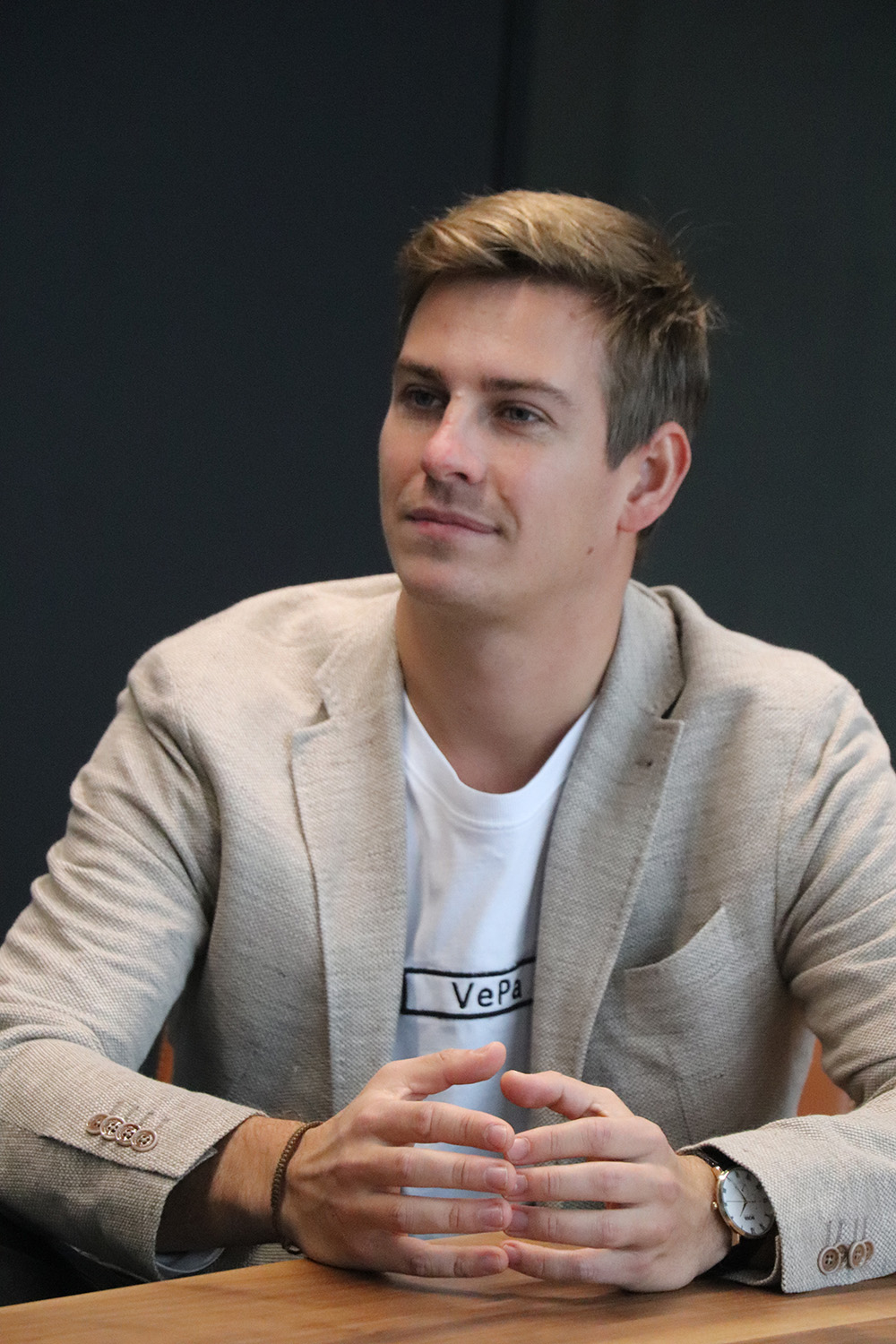 The innovation community being celebrated with this year's INNOVEIT is working hard to bring about a future that's green, healthy, and meets valuable social needs. The New European Bauhaus turns these ideals into a liveable reality. On 23 September 2022, INNOVEIT Berlin will unite the creators, inventors, and policy makers bringing this vision to life.
David Schön, Co-Founder of vertical parking start-up VePa, will present his pitch alongside other exciting innovators at INNOVEIT Berlin. Earlier, he joined us for an interview where we discussed the future of car ownership and storage and how creating green spaces goes hand-in-hand with digitalisation.
EIT: You are a co-founder of VePa. How would you explain what you do to an industry outsider?
David Schön: We at VePa Vertical Parking work to reduce the total number of private cars, and we do that by building up a vertical parking system which can store and charge all kinds of mobility and increase the supply of emission-free cars and cargo bikes, scooters, and the like.
EIT: How does VePa contribute to achieving sustainability and climate targets?
David Schön: We contribute to achieving climate targets by stopping the industry from building underground garages in the first place because they are very bad for the environment, and they cannot be built back. We did the calculation, and we need 98% less CO2 emissions per parking spot compared to an underground garage — that's point 1. And the second point is to reduce the total number of private cars and to help people switch to emission-free shared mobility.
EIT: During the development of your vertical parking tower, you also placed emphasis on user-friendliness and aesthetics, requirements usually not associated with parking. Why are architectural aesthetics important for a parking tower?
David Schön: Aesthetics are important for our parking tower because it's a tower! So, it's a structure that's 10-15 metres high in the city and we have so many beautiful cities, especially all over Europe. And I think we really have to blend into these cities and not have solitaires where people say "Okay, that looks weird," but really blend in and be functional with our towers and that's where we have a strong emphasis.
EIT: In the next few decades, autonomous vehicles and car sharing will become more prevalent in our everyday lives. How do you see the future of driving and parking?
David Schön: I see the future of driving and parking changing drastically. I think one point will be software. So, in the next decade, we have to really use the parking spaces in underground garages and big parklets with software so people can use the free spots everywhere in the city.
And then we'll have to change to autonomous driving where we won't own a private car, probably, as an individual at least, and parking will not be a part of what the user feels. It will happen in the back end more or less, and then we have to be really space-efficient, and we have to charge while parking those cars.
"We applied to the programme, and we are super proud to be part of it. And we had a lot of benefits."
EIT: VePa joined EIT Urban Mobility's accelerator programme in 2021. How did you hear about the EIT? How did EIT Urban Mobility help with finding customers, partners, or investors? And how did it further develop your venture?
David Schön: Yeah, that's a good point regarding how we connected with EIT. As you said correctly, we were part of the Urban Mobility incubator during the summer last year. And the connection was made via UnternehmerTUM.
Simon Herzog worked for both entities and played a big role in that. We applied to the programme, and we are super proud to be part of it. And we had a lot of benefits.
So first we were part of the Munich Urban Colab where we had access to the industry, to investors, to everything which was important in that phase of our venture. And, of course, we took trips to Barcelona, to Cologne. Johannes Kirschner played a huge role in the EIT because he made so many introductions and helped us to really gain some traction.
EIT: What are you looking forward to during the INNOVEIT Berlin event?
David Schön: I think, in the first place, telling more people about VePA and how we really changed mobility in cities of the future but also to hear about other great ideas and get more feedback and see what's happening in the world in the space of mobility and New Bauhaus and aesthetics in cities so we can take this back to our development team and say "Okay, hey, the users or potential customers want this from us and we have to develop it in a certain way." I think this feedback loop is very important for us.
Want to hear David Schön at INNOVEIT Berlin?
Join the event in person or online and become a part of the EIT community!