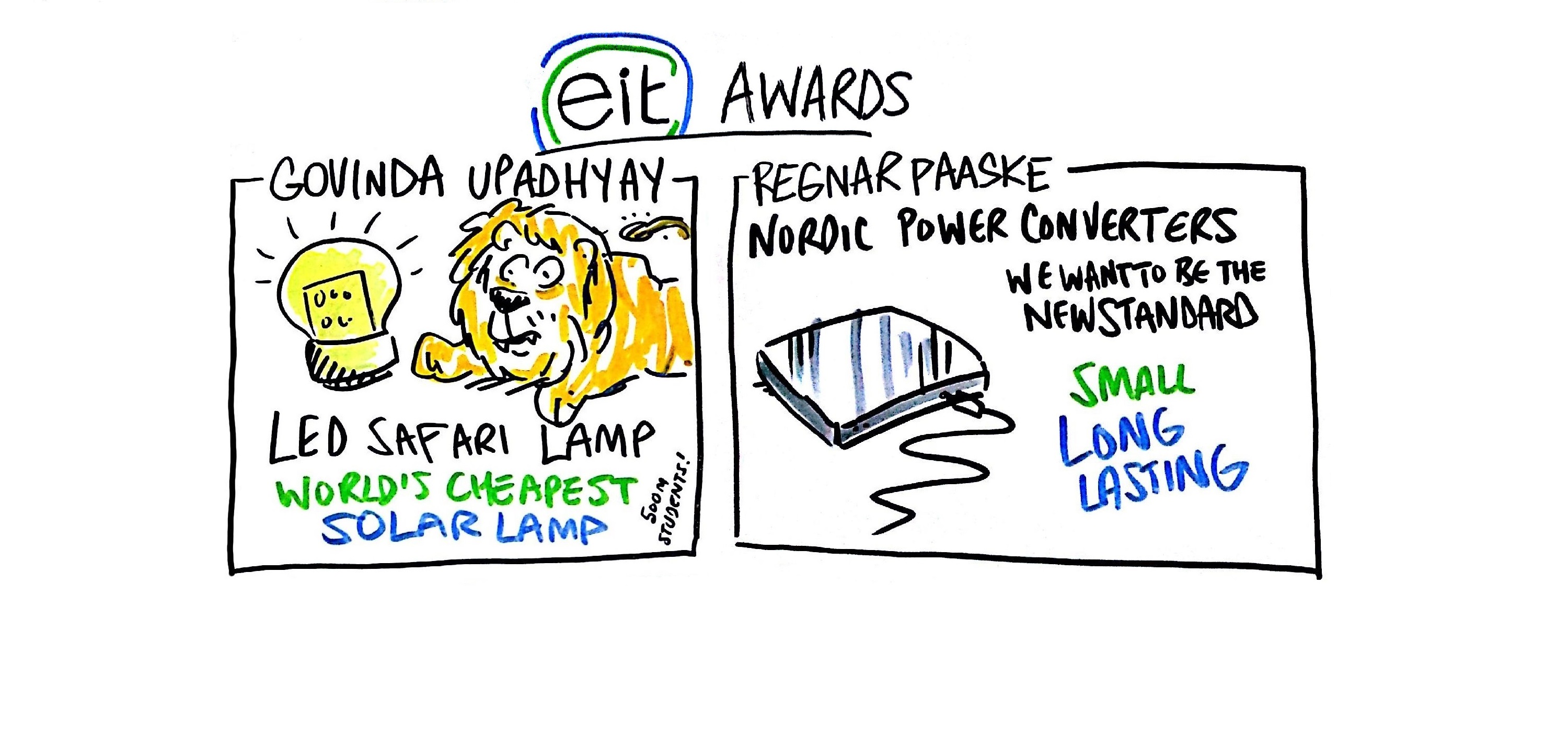 Harriet van der Weele, Communication Officer Entrepreneurship at Climate-KIC, spoke to two winners of EIT awards at InnovEIT held in Budapest last May, to find out if winning such an award is helping their business.
Two Climate-KIC start-ups won an award; Nordic Power Converters of Denmark won the EIT Venture Award for their imaginative redesign of small, long lasting power converters. LEDsafari won the EIT Change Award for designing a build-it-yourself simple and affordable solar LED lamp. I spoke to Regnar Paaske of Nordic Power Converters and Govinda Upadhyay from LEDsafari.
Getting started
Both ideas were born while studying at university. Co-founder Mickey Madsen from Nordic Power Converters was researching the problems with power converters during his PhD. Govinda from LEDsafari was doing a master at KIC InnoEnergy with a thesis on 'smart electrification in developing countries'. Both felt a need to test their theories in practice. Mickey began to speak to potential partners and customers early in the process to test the value of the innovation for them, leading to the conclusion that a first focus on LED lighting was the preferred way to start. Govinda took his idea to an Indian village where it became apparent that he had to change his focus to an educational aspect; teaching children across the globe how electricity works and how this can be done in a sustainable way, using building your own lamp as an educational tool.
Developing a great idea into great business
Next step is to grow an idea into successful business. Nordic Power Converters enlisted for the Climate-KIC Accelerator programme because they saw it as a safe environment to test their business hypothesis. Competitions helped them to sharpen their whole business case and presentation. Grants and prize money made it possible to develop prototypes and opened opportunities to travel around the world to meet potential investors, partners and customers. Also for LEDsafari enrolling in the Accelerator was a crucial next step, especially for the guidance in developing the business model; without this Govinda is convinced that his idea would have died a long time ago.
Most valuable lessons learned
Also for Nordic Power Converters the discussions with the coaches, the questions asked by judges of competitions helped in setting the right priority for going to the market. Both start-ups learned to ask for help and to find that there are a lot of experts out there willing to do so. But for LEDsafari the biggest lesson was to learn how to think big, always be on the look out for business opportunities and learn how to network.
Winning an EIT award
Receiving a tailored support package is always nice, but nevertheless the big win for both is getting the recognition from an important body as the EIT. It helps to create credibility amongst potential investors, customers and employers. The publicity that comes with it, increases attention and opens doors: people start listening, which for LEDsafari was a struggle the first two years in existence. For Govinda winning the award was really an attention seeker and above all a confidence builder for himself.
A call for entries for the Climate-KIC Accelerator
To the questions what they would advice to other potential start-ups out there, Regnar replied: 'Starting your own business means growing as a person. So if you are not stuck to a structured life, go out there and try new things, because as Ronald Osborn says: Unless you try something beyond what you have already mastered, you will never grow.' The answer of Govinda was simple: 'Think of your value in terms of impact, but above all: think big!'
Both Nordic Power Converters and LEDsafari participate in the Accelerator of Climate-KIC; a programme designed to connect start-ups with the right experts, formulate business plans, develop entrepreneurial skills and help fund businesses through their early stages.
Communication Officer Entrepreneurship at Climate-KIC