EIT Hub Israel: join the Calling2Scale bootcamp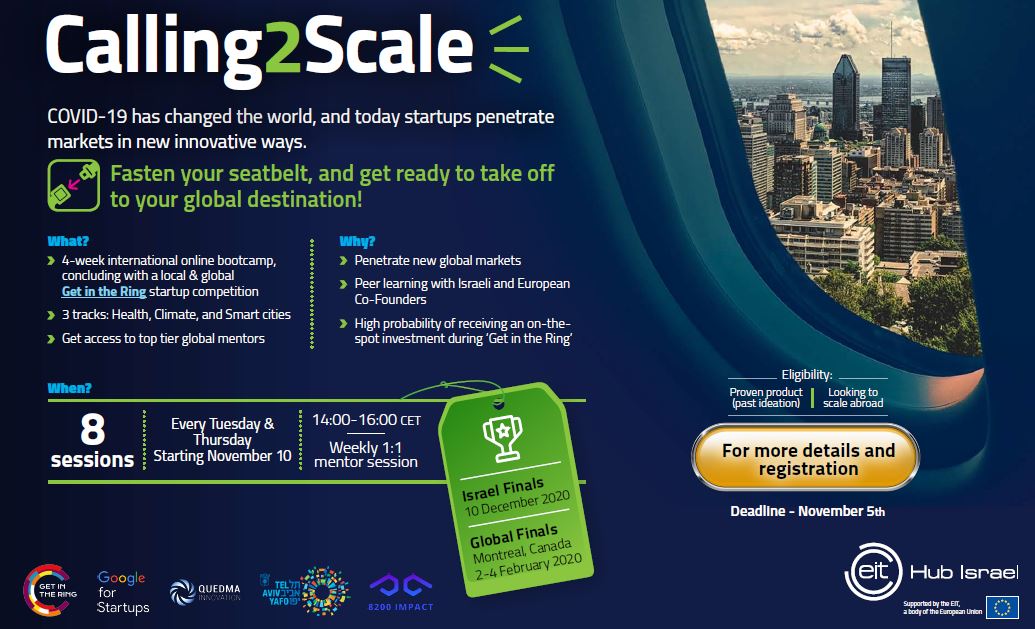 EIT Hub Israel is announcing its first programme for European and Israeli start-ups.
What is Calling2Scale bootcamp?
Calling2Scale is a bootcamp and start-up competition offering globalisation support, practical tools and an international network to 12 highly motivated and disruptive Israeli and European start-ups. 
The programme strategically and effectively prepares and enhances a company's ability to penetrate and scale into new global markets by leveraging its network of partners and international experts.
The bootcamp will conclude with "Get in the Ring" start-up competition, held in 200+ cities around the world. 
What to expect on your global journey?  
The programme operates in three tracks – Health, Climate, and Smart Cities. The bootcamp takes place in November-December 2020. 
Discover more about the agenda
Why join?
Fully funded bootcamp with hands-on supports and tailored workshops to meet your needs.  
Strategic partners and speakers from leading innovation ecosystems - including Israel, Silicon Valley, and Europe.     
Weekly 1:1 session to support your growth and progress. 
Direct access to a pool of top tier experts and mentors from various fields based on your specific needs (business, communication, leadership, technology, marketing, and more).  
The 3 winners of the start-up competition, 1 from each track, will compete in the prestigious "Get in the Ring" global start-up competition.   
Submission deadline: 5 November 2020 (23:59)