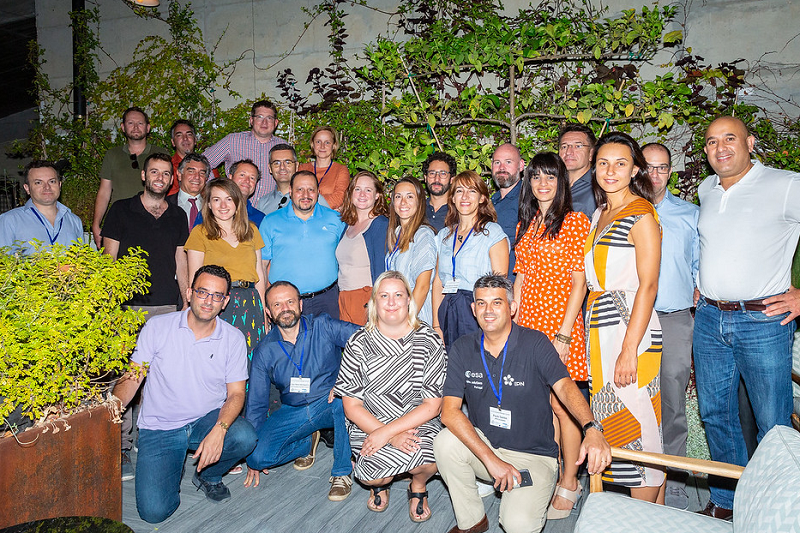 EIT Community met at the new EIT Hub in Israel on 21-26 September 2019 to learn more about the Israeli ecosystem, share knowledge as well as exchange ideas on the best practices along with creating substantial business opportunities.
Amid the breathtakingly stunning landscapes of Tel Aviv and Jerusalem, managers of EIT Communities had the opportunity to participate in the first EIT Executive Ecosystem Managers Delegation to a new EIT Hub in Israel. The main objectives of this conference were to explore different European and Israeli ecosystem models, to gain knowledge and to learn best practices for better support of start-up growth. Another goal of the meeting was focused on building connections and networking with leading experts in order to foster an organic cross partnership between different EIT Communities.
There were ten participants representing EIT Health, four from EIT Climate Community, three from EIT Food, and four from EIT Urban Mobility. For all these individuals, it was a wonderful opportunity to discover the hidden potential of the Israeli ecosystem, to meet Israeli innovation authorities, such as Karina Rubinstein, Director of Business Development in the Start Up Division; or Nili Shalev, Managing Director of ISERD. Participants also had the chance to engage in breakout sessions during the EU-IL Ecosystem Manager Summit, which took place in the headquarters of Start-Up National Central, the main Partner of this event. During the delegation visit, there were several discussions taking place on how to further boost innovation. And a presentation about the eight pillars of Ecosystem Management allowed participants to pick up some key takeaways that they might implement in their own regions.
The EIT Executive Ecosystem Managers Delegation to Israel in numbers:
70% of time on new lessons learnt, networking and inspirational ideas
20% of time on hand-on workshops
10% of time on intensive culture exchange
60 ecosystem leaders both form the EU and Israel
The 2019 edition of the EIT Executive Ecosystem Managers Delegation to Israel (ESCL) programme was deemed a great success, so the next delegation will be organized in March 2020, also at EIT Hub in Israel.
The EIT Hub Tel Aviv has created the ESCL programme to build a bridge between European and Israeli ecosystems and to operate as a platform for Cross-Community collaboration. All executive ecosystem managers are welcome to apply for the programme and become a part of this group.

Adi Barel, Manager of EIT Hub Tel Aviv
EIT Hub Tel Aviv is a global outreach programme of the European Institute of Innovation Technology (EIT), a unique EU initiative that boosts innovation and entrepreneurship across Europe while supporting the development of dynamic pan-European partnerships (Innovation Communities) between leading universities, research labs and companies. As part of the EIT Global Outreach programme aimed at promoting international cooperation, joint EIT Community offices are being established in several key locations – Silicon Valley, Beijing and Tel Aviv. Together, these partnerships develop innovative products and services, establish new companies, and train a new generation of entrepreneurs.
For more information
Contact Adi Barel, Manager of EIT Hub Tel Aviv: adi.barel@eithealth.eu