EIT InnoEnergy webinar: Equip your workforce for the future of energy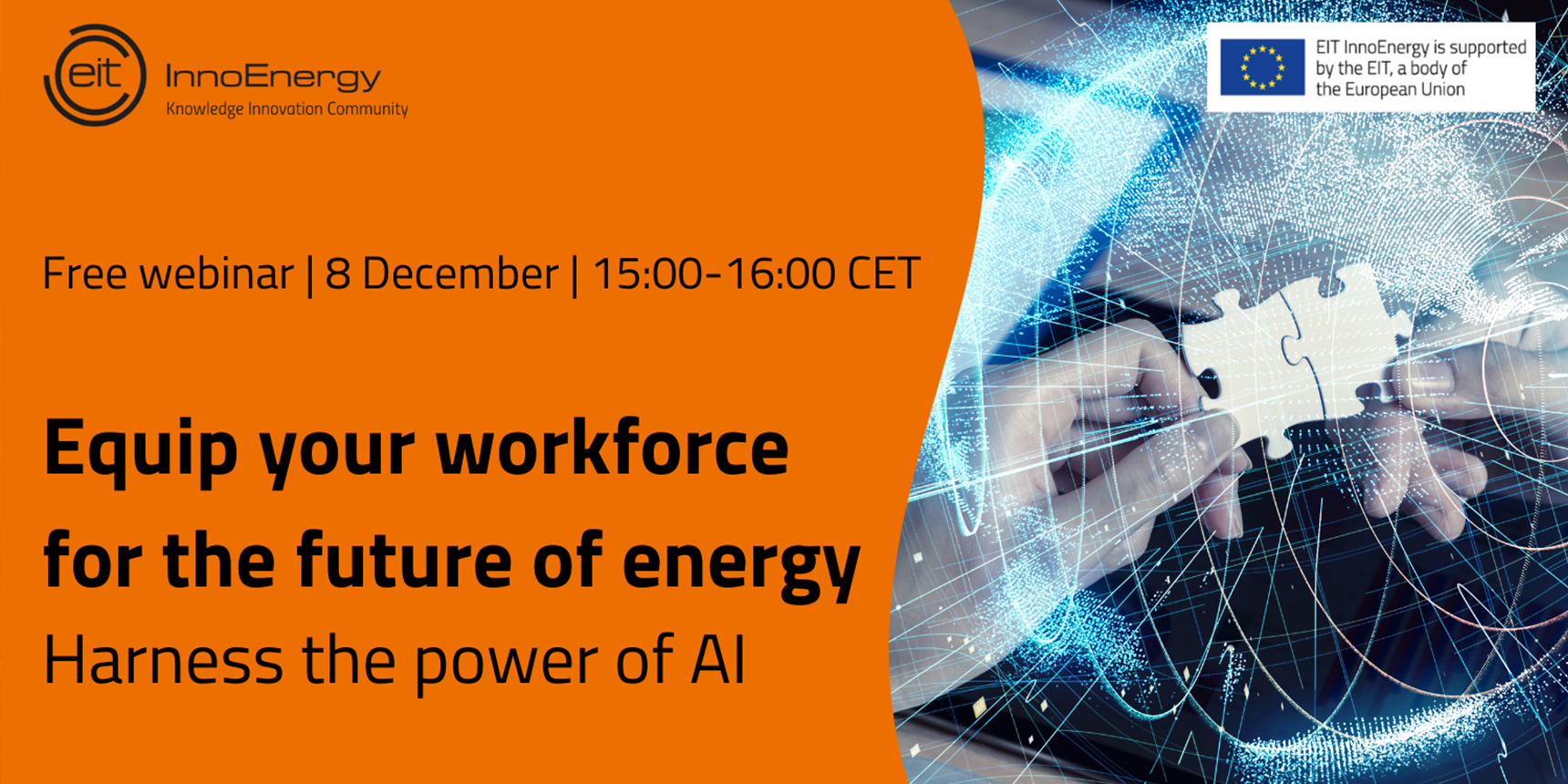 Join EIT InnoEnergy's webinar on 8 December 2020 to discover how the power of AI can help you future-proof your organisation's talent amidst massive innovation in the energy sector. 
Why this webinar?
The increasing urgency of tackling climate change is turning the energy sector on its head. Rapid innovation has vast implications for the workforce: employees need to constantly evolve their skills to stay relevant. So fast is the pace of change, skills gaps are opening up in a matter of months.
 
Human resources (HR) professionals also face mounting pressure to retain top talent as an influx of new companies enters the market. Taking a much more agile approach to managing and nurturing talent is imperative for your company's success.
Secure your spot for the webinar
What to expect?
Learn how Artificail Intelligence (AI) can help you pinpoint vital skills gaps across your organisation and identify emerging skill trends in the energy sector. 
Participants will learn about some of the trends that will have a direct impact on your recruitment and retention strategies, and EIT InnoEnergy will discuss the increasing importance of talent nurturing in an industry at the forefront of change.
EIT InnoEnergy will present SkillCharge Enterprise – a powerful new AI-driven tool that will enable you to map the entire skills of your workforce and help you identify skills gaps based on current and future trends.
Automated learning recommendations tailored to each employee
Participants will learn about the increasing importance employees are placing on their professional development needs, and how SkillCharge Enterprise can help you chart the learning journey for every worker with tailored course recommendations to bridge vital skills gaps.
There will also be a chance to discuss common challenges among fellow HR professionals who are similarly adapting their practices within this fast-evolving industry.
Why attend?
Hear from EIT InnoEnergy Education Director, Frank Gielen, on the need for talent nurturing in our innovation-driven society and the changing professional realities in the industry.
Discuss the impact that projects such as the EU Green Deal and the Just Transition Fund will have on industry employment.
Find out from EIT InnoEnergy AI expert, Yves Peirsman, how artificial intelligence can help support the emerging challenges for HR professionals in the face of unprecedented industry change.
See SkillCharge Enterprise in action and discover how you can build tailored professional development pathways for each employee based on automated skills analysis and future skill trends.
Register today
This free webinar will take place on Tuesday 8 December 2020, 15:00-16:00 (CET).