1st EIT Alumni Community Board is established!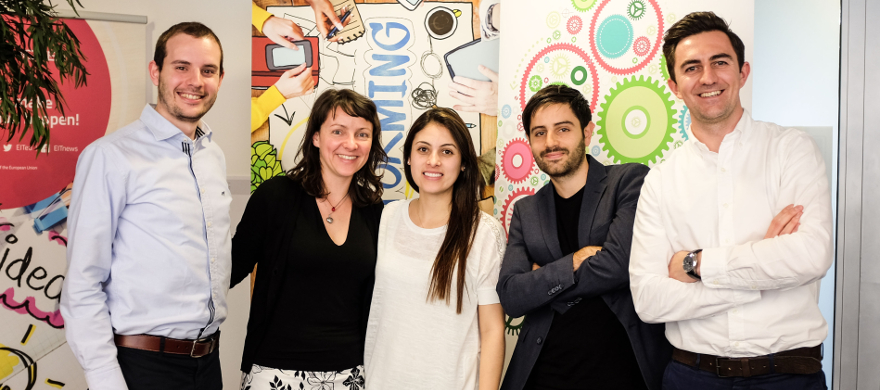 Friday 08 April heralded in a milestone for EIT Alumni and the entire EIT Community with the establishment and first meeting of the EIT Alumni Community Board.
The EIT Interim Director Martin Kern appointed the first EIT Alumni Board. With a strong mandate to represent the entire EIT Alumni Community four representatives had been nominated by the alumni associations and communities of the EIT Knowledge and Innovation Communities. The four members of the EIT Alumni Community Board will be supported by an EIT Observer.
The Inaugural EIT Alumni Community Board comprises
: 
President - Estefanía Tapias (Climate-KIC Alumni Association President)  

Vice President & Communications Officer - Borce Stojkovski (

EIT Digital Alumni)

Treasurer - 

Antonio Mart

í

nez Millana (

EIT Health Alumni

)

Community Officer - 

Claudio Geyken (KIC InnoEnergy, Community Officer)

EIT Observer - 

Nadja Dokter (EIT, Head of Strategy and Impact Section) 
Opening the meeting, Martin Kern stressed how important EIT Alumni are to the whole EIT Community, noting that the new Board has a "powerful platform" to drive collaboration initiatives, to harness the massive potential of all EIT Alumni, and to provide effective representation for the entire community. There is strong consensus within the EIT Alumni Community Board that there is much to gain from establishing the Board and further developing the Alumni Community to complement activities existing KIC Alumni associations and communities are pursuing. 
The new EIT Alumni Community Board will have a prominent role in the upcoming EIT CONNECT event in Budapest (24-25 April 2016) discussing and planning with more than 100 EIT students and alumni innovative community activities for the year ahead. Following EIT CONNECT, the Board together with around 30 active alumni will also participate in the EIT Innovation Forum - INNOVEIT 2016 (Budapest, 25-26 April 2016) - networking and engaging with the broader EIT Community and feeding in their valuable insights and experiences as part of the EIT Stakeholder Forum. 
Every year more and more passionate, entrepreneurial minded graduates are emerging from EIT labelled educational programmes. The community of next generation innovators and entrepreneurs they make up is set to keep growing as new KICs become established and KIC educational activities continue to develop. To find out more about EIT education initiatives click here.
It is foreseen that the EIT Alumni Community Board will expand as the EIT Community grows to include alumni from new innovation communities such as EIT Food and EIT Manufacturing to be designated later this year.