EIT CONNECT 2016
Image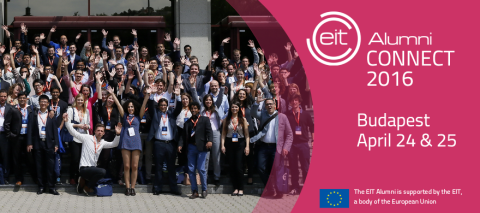 EIT CONNECT 2016 in Budapest on April 24 & 25. 
The EIT Alumni CONNECT event will bring together more than 100 students and alumni from all five of the KICs.
Participants will have the opportunity to:
share their knowledge and experiences and discuss their entrepreneurial ideas with fellow students/alumni in a cross-disciplinary way;

find partners for exchange of ideas and potential collaboration (e.g. start-ups searching for people with specific skills);

meet the inaugural EIT Alumni Community Start-up Board and contribute to the development of the EIT Alumni Community by building up ideas for Community collaboration and working out ways to implement them jointly.
Here is the draft agenda outline
The EIT Alumni CONNECT event is tailor-made for students/alumni who:
are motivated to contribute to the development of the EIT Alumni Community;

are eager to collaborate with students and alumni from other KICs;
The EIT together with the KICs will organise travel and accommodation for a total of 120 students and alumni, who currently study in an EIT labelled/KIC Master or PHD programme or have graduated from an EIT labelled/KIC Master or PhD programme. The list of Master and PhD programmes can be found here.
There will also be limited spaces for alumni to continue on and participate in the main part of INNOVEIT2016 – the EIT Innovation Forum, this year focused on 'Joining forces for Innovation' - check out the programme. Motivated alumni, passionate about the INNOVEIT theme and interested in strengthening cross-KIC collaboration will also have the chance to:
meet and discuss their ideas with successful innovators and entrepreneurs, including EIT Awards nominees, as well as EU and national policy makers and innovation experts;

meet and network with the EIT Community

feed-back their ideas and opinions on the EIT`s plan and strategy for the future, especially at the Stakeholder Forum (26 April)
Read more about the last year's EIT Connect event here, that was organised in May 2015!
Applications are now CLOSED. Successful applicants will be contacted.