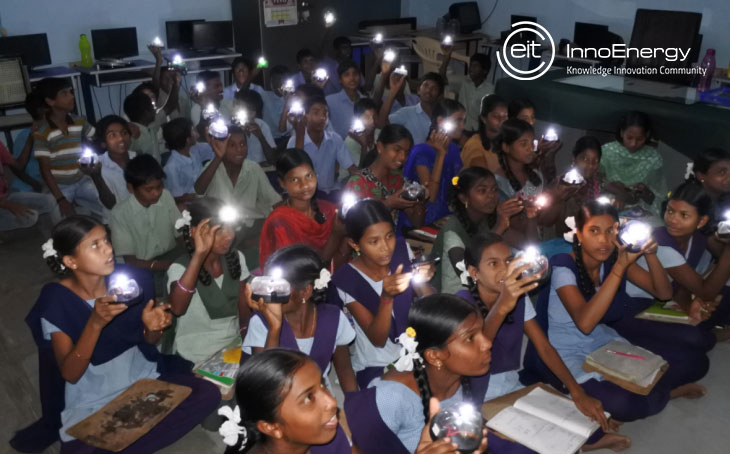 The company aims to improve the lives of those without reliable access to energy

With a smart concept of a lamp that can be assembled by anyone anywhere, EIT InnoEnergy MSc SELECT alumni Govinda Upadhyay's company, LEDsafari, has been expanding internationally and has now reached 40 countries. Govinda won the 2015 EIT CHANGE Award for his design of a simple and affordable solar LED lamp, after completing the EIT InnoEnergy MSc programme in 2012. The idea then became a start-up when he founded his own ed-tech company, LEDsafari, in 2016.
A true believer in the importance of networking, Govinda shared how he was able to get the idea off the ground in the first place. 'The EIT InnoEnergy programme and network is what really helped me develop my idea and turn it into a business. And I'm still tapping into this network – and always will. Excellent contacts and support are vital to succeed in business.' And now the multi-award winner (including Forbes 30Under30, Asia21 Young leaders, BITSAA's 30 under 30, and the recent Prestigious Ambassador Award from the Swiss government) shares what's new with this growing company.
New products
'LEDsafari is evolving fast' Govinda explained. 'We are moving towards online training for staff of solar companies working in emerging economies. We realised that we need more trained people in the solar sector, especially in emerging economies. And this is how we can fill that gap.' With an upgraded online training platform that offers new courses for solar companies and organisations to train their staff, LEDsafari is doing their part to help the planet go solar. 'Also new, our plug and play IoT sensor technology that makes it easy to do remote monitoring of solar devices. It is reliable, works with the 2G network (so no need for internet), and predicts possible faults in the solar panel. This will create efficiency in solar operations and hopefully bring more jobs and growth to the solar sector.'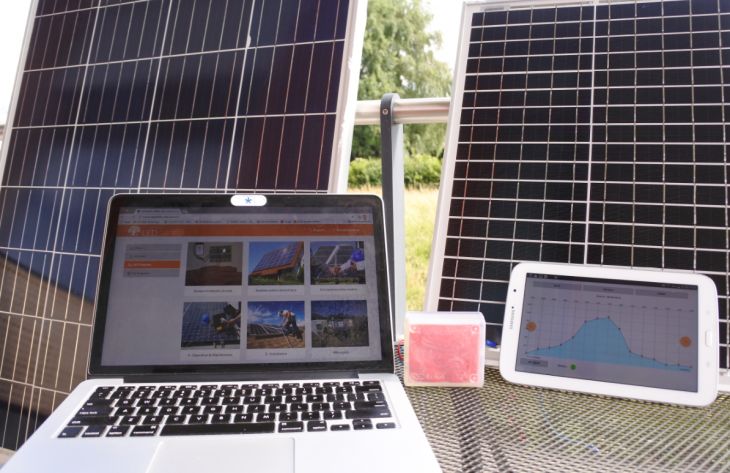 Govinda shows a perfect example of these two technologies working together with their new SmartHelio products launched at InterSolar Munich and Brazil – with many companies showing interest in this B2B platform. 'Using online training and sensors, we will manage solar companies' staff and solar devices. Our goal is to become the gold standard for training on these skills.' He added, 'It is essential to go to conferences and exhibitions. That's why we are travelling all over the world to promote this simple and powerful new technology.'
Community Outreach
Always thinking on how to improve the lives of those without reliable access to energy (and teaching sustainability principles to those WITH reliable access), LEDsafari has continuously worked towards enabling communities to create their own healthy light source – which was the very goal of his original project-turned-business-idea. 'We have developed an innovative pedagogical way to teach students about electrical concepts, design process and sustainability using the process of making a simple and inexpensive solar LED lamp. We now have over ten different types of simple DIY solar kits for the schools and children.' LEDsafari has expanded its outreach program to 40 countries now, with new partners in Bali (Indonesia), Leh (India), Haiti, Ghana and Guatemala. 'We have impacted over 30 000 students all around the world in just 2 and a half years' said Govinda.
About the EIT
Govinda is still thankful for the entrepreneurial edge gained in the EIT InnoEnergy MSc programme. As he stated, 'I'm really happy to see so many EIT InnoEnergy grads making their own start-ups now. It's not that it's a "trendy thing". It's a necessary thing if we're going to change the world in a positive way.
---