EIT Manufacturing BoostUp! RIS 2021 – two-day ride with outstanding manufacturing innovations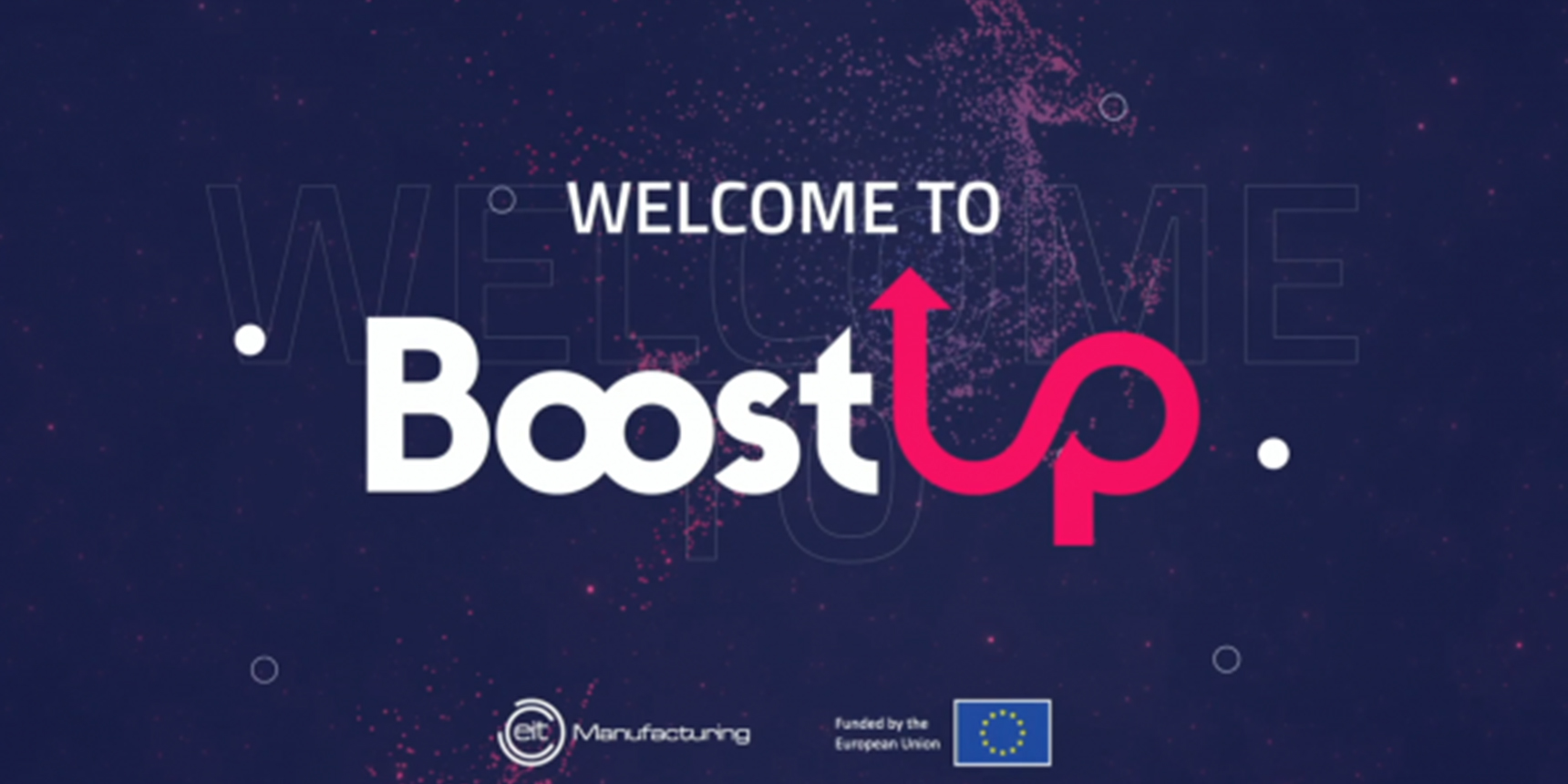 On 11-12 May, the 2021 EIT Manufacturing BoostUp! RIS event took place during the Manufacturing Days at ViennaUP'21, one of the largest start-up festivals in Europe.
During the event,16 start-ups and teams pitched their innovative solutions to an international audience, and the best ones were awarded with growth support packages and cash prizes.
BoostUp! started in 2020 as a flagship event in EIT Manufacturing's Business Creation pillar. As inclusiveness, openness, and collaboration are the cornerstones of BoostUp!, this year's competition had a special focus on countries part of the EIT Regional Innovation Scheme (EIT RIS). This was done specifically to ensure that all local and regional ecosystems are equally represented in the EIT Manufacturing innovation community, regardless of the maturity of their local innovation support infrastructure. This year, special attention and growth support was given to the start-ups that may not have all the needed local resources for scaling but are still thriving and have accomplished extraordinary results.
Many high-quality applications from teams and start-ups from 15 RIS eligible countries have been submitted. After an external jury evaluation, 11 start-ups in the Accelerate Category, and 5 start-ups in the Create Category were invited as finalists to pitch their ideas on the virtual BoostUp! RIS stage.
Of the 57 submitted applications, more than 70% addressed two EIT Manufacturing flagship areas: 'Digital & Collaborative Solutions for Innovative Manufacturing Ecosystems and Low Environmental Footprint Systems' and 'Circular Economy for Green Manufacturing', and half of all applications were related to the following three technology domains: Connectivity and IoT Infrastructure; Data analytics/AI, and Additive Manufacturing (3D printing).
In addition to the pitching competition, the 2021 BoostUp! RIS event programme was complemented by keynote speeches, panel discussions, interviews, presentations, and fireside chats on topics such as green manufacturing, IP management, smart manufacturing, efficiency, and safety in manufacturing as well as the importance of communication to attract investors.
The winners of the BoostUp! RIS 2021 were awarded with 'growth packages' of four months of dedicated support services in coaching, mentoring and IP management provided by the EIT Manufacturing Business Creation team, as well as financial prizes of EUR 10.000 for the first place winner, EUR 7.000 for the second place, and EUR 5.000 for the third place. In addition, LMS (Laboratory for Manufacturing Systems & Automation, University of Patras, Greece), as a BoostUp! RIS supporter, provides tech expertise and mentoring related to a proof of concept or product development for the first-place winner in the Create Category.
Winning teams in the Accelerate Category:
First place: Neuron SW (Czech Republic). Neuron SoundWare reshapes machine diagnostics and predictive maintenance. Their powerful AI recognises sound patterns in real-time and provides unparalleled insight into how mechanical systems operate, so potential failures can be detected early.
Second place: UP Catalyst (Estonia). UP Catalyst produces novel and sustainable carbon nanomaterials and graphite, mainly for energy storage applications, through a sustainable CO2 capturing electrolysis process.
Third place: Vottun (Spain). Vottun has developed a complete functional enterprise blockchain platform that improves current traceability enterprise processes enabling entities to publish, certify, verify, and distribute data using blockchain and smart contracts technology.
Winning teams in the Create Category:
First place: ArcLub One (Slovenia). ArcLub One is the innovation for sustainable and clean CNC (cryogenic metal cutting) machining. In addition, the tool life can be prolonged by more than 200% and the production costs can be reduced up to 50%. These benefits are produced with low energy and CO2 consumption.
Second place: AutoTAG (Italy). AutoTAG develops an automated, easy-to-use, AI and Deep-Learning based leather quality control software.
Third place: enforge (Greece). enforge is a factory digitalisation solution to enable manufacturers to mass-deliver personalised products, faster and at a lower cost.
If you missed the event or would like to watch any of the sessions from the 2021 BoostUp! RIS, you relive the event here.