"World peace cannot be safeguarded without the making of creative efforts proportionate to the dangers which threaten it."
Today on Europe Day, we commemorate Robert Schuman's words which proposed what would eventually become the EU -- the Union that makes war between members "materially impossible." The launch of the European Year of Skills is an occasion for the EIT to show how it's contributing to Robert Schuman's vision of a Europe united in peace and indispensable to fighting the crises facing the world.
The lessons of the past are more vital than ever
Though far more stable, democratic, and prosperous than it was in 1950, Europe faces new existential crises. Climate change will heat Europe faster than any other continent, threatening its ecosystems and communities with disintegration and degradation. Europe has already paid for global inaction on climate change with EUR 145 billion over the last decade to natural disasters alone, to say nothing of climate change's more subtle effects. Today on 9 May, we are proud to be part of the launch of the EU Year of Skills. Since 2008, we have already been part of the EU's effort to prepare the EU workforce with the tech and business skills they need to confidently fight the incoming climate disaster. The Year of Skills will highlight our role in helping Europe pool its resources once again, this time in innovative ideas to achieve the green and digital transitions necessary to help the planet. Our new Deep Tech Talent Initiative is already building a coalition of major partners across the tech and education sectors to train one million Europeans by 2025 in AI, semiconductors, renewable energy, and all other future tech required to achieve these transitions.
Though our Member States remain united in peace, tragedy has once again struck with the first open war on European soil since the 90s. The EIT is doing what it can to safeguard the future of Ukraine's refugees and lay the foundations of a post-war recovery. Over the past year, we have been expanding the programmes available to the refugee population to make sure that their pursuit of their education and livelihoods can continue despite the destruction sown by the Russian invasion. Projects with refugees but also within Ukraine itself will continue to grow over the next year. These efforts show how we are trying to learn from the horror of the 40s: though the darker ideas of Shuman's time remain present in Europe, we are moving together to pool what we can to help those in need and prevent widespread suffering.
Celebrating our accomplishments
Europe Day is also about celebrating what we have been able to achieve together. Our EIT team was overjoyed to meet and connect with the over 1 700 visitors to our Europe Day tent at Freedom Square, Budapest on 7 May. It was our pleasure to share with you a bit of what the EIT does across Europe every day. We introduced you to our large EIT Community -- the incarnation of a cross-European collaboration but one of talent and ingenuity instead of coal and iron! Talent bent specifically on improving specific facets of our livelihoods from a more sustainable supply of food to more livable cities. All things people in Shuman's time could only dream of.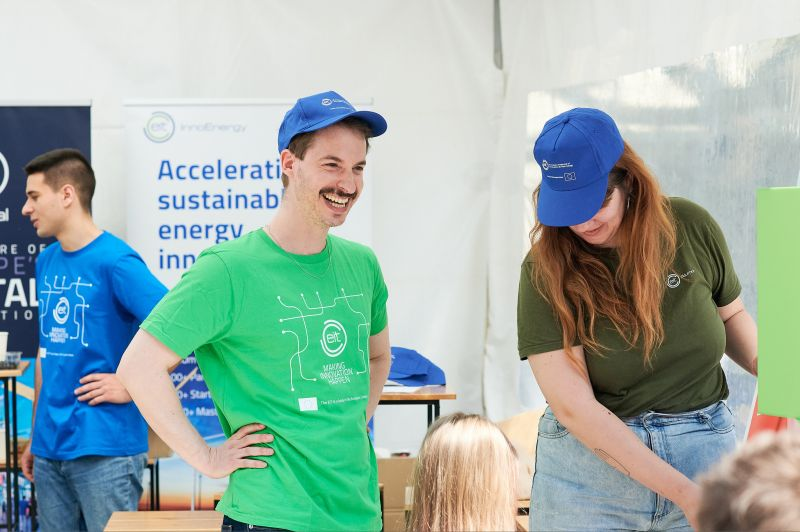 You can be part of this vision
But the EIT Community is only as strong as those that join it. If you share our vision of a Europe bound together by innovation tirelessly working for a better future, we'd be happy to count you among us! From education to business creation, we're happy to help you at any stage of your journey.
Our education courses at EIT Campus