Europe needs more entrepreneurs
The EIT powers entrepreneurs and innovators to turn their best ideas into products, services and jobs for Europe. Indeed, one of the EU's key innovation objectives is creating more innovation and more jobs through fast-growing, innovative firms. This is why a cornerstone of the EIT's activities is not only to support innovation in existing companies, but also the creation of new business opportunities. The vital ingredients to fostering entrepreneurial activities are: ensuring access to finance, access to new customers and new markets as well as providing support for enhancing business skills.
Download our factsheet on Entrepreneurship with the EIT
Download our catalogue of EIT KICs' business creation programmes
One of the key challenges to boosting entrepreneurship in Europe is shifting the perception and increase the recognition of entrepreneurs. This is why boosting and encouraging entrepreneurs and companies to embrace innovation and take it to market are among the EIT's top priorities. To this end, the EIT facilitates cross-learning meetings on entrepreneurship and acts as a gate-opener as Europe's largest innovation network with more than a thousand partners. It has initiated a number of activities in support of the Innovation Communities' and innovation hubs' entrepreneurship activities, notably the EIT Awards.
Powering entrepreneurs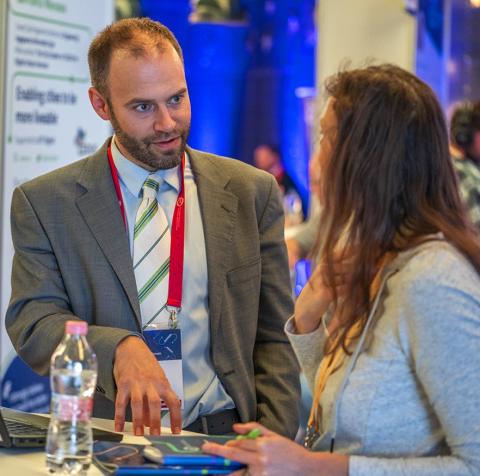 Across the EIT Community, innovation and entrepreneurship are strong vectors to overcome global societal challenges from climate change and sustainable energy to food and healthy living. Together with our Innovation Communities, the EIT places a strong emphasis on developing the next generation of entrepreneurs, encouraging and supporting innovators and companies to develop innovative ideas and take them to the market, thus contributing to a more innovative and competitive Europe.
Through their business creation and acceleration programmes, all EIT Innovation Communities offer a range of business support services that help entrepreneurs and innovators translate their ideas into successful, thriving ventures. These services focus on areas such as support for technology, market assessment, access to human resources, access to new markets and customers, mentoring and, last but not least, seed and venture capital through specific EIT Innovation Communities innovation funds.
The EIT Community's added value stems from supporting entrepreneurs in one Member State to enter, through the network of EIT innovation hubs and contacts, several Member States and develop a clear strategy towards the penetration of the European market, breaking the existing fragmentation around national markets and overcoming the entrepreneurs' fear of 'going European' at an early stage.
Key Features of EIT Community Business Development
Powering the development of new businesses
Organising European-wide specialised business support committed to finding the first customer for young ventures
Accelerating time to market of innovations through demonstration actions, facilitating experience labs and demand-side measures
EIT Community Offer
All Knowledge and Innovation Communities have the objective of decreasing the average time to market of innovations. Indeed they offer opportunities and activities tailored to each stage of an idea: Pre-seed, Seed, Scale-up and Series A-B. Discover the offer based on the global challenge you are trying to solve:
EIT Climate-KIC EIT Digital EIT Food EIT Health
EIT InnoEnergy EIT Manufacturing EIT RawMaterials EIT Urban Mobility
The flagship, cross-community, pre-acceleration programme of the EIT is the Jumpstarter programme for Central, Eastern and Southern European cross-industry entrepreneurs.
Discover the EIT Community innovators in our Success Stories page.