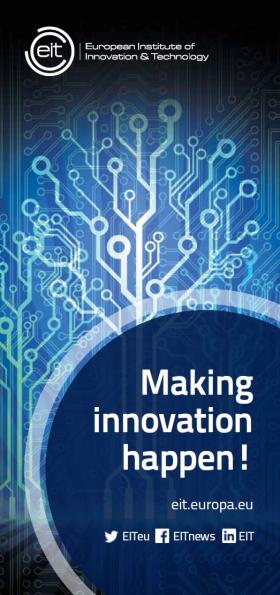 What is the EIT and how does it work?
The European Institute of Innovation and Technology (EIT) is an independent EU body based in Budapest that is strengthening Europe's ability to innovate.
The EIT plays a vital role in supporting the EU's objectives of creating sustainable economic growth and jobs by enabling entrepreneurs and innovators to turn their best ideas into products and services for Europe.
The EIT nurtures entrepreneurial talent and supports new ideas, bringing together the 'knowledge triangle' of leading companies, universities and research centres to form dynamic cross-border partnerships called Innovation Communities (KIC- Knowledge and Innovation Community).
The EIT's mission is to:
contribute to the competitiveness of Europe, its sustainable economic growth and job creation by promoting and strengthening synergies and cooperation among businesses, education institutions and research organisations
create favourable environments for creative thought, to enable world-class innovation and entrepreneurship to thrive in Europe The EIT is an integral part of Horizon 2020, the EU's Framework Programme for Research and Innovation.
Want to know more? Click here to download the EIT Leaflet.