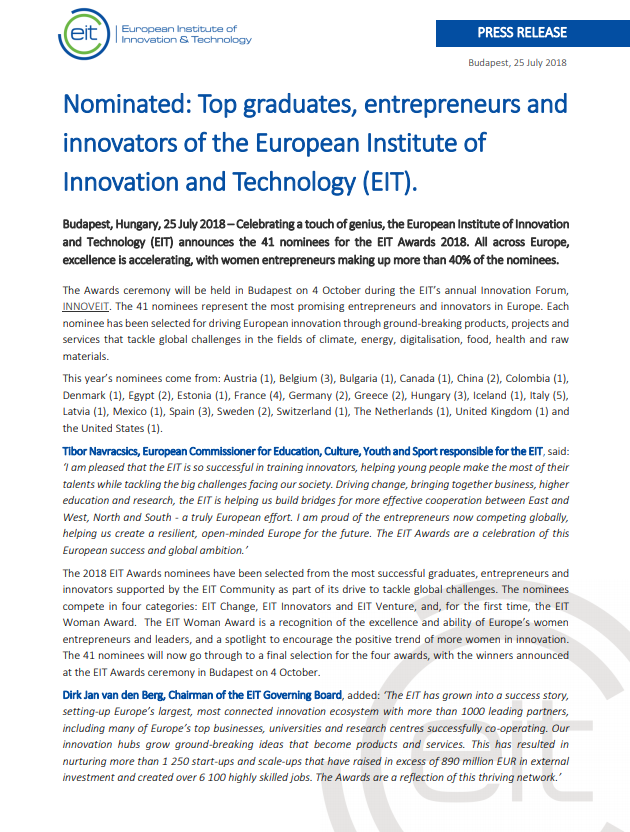 Celebrating a touch of genius, the European Institute of Innovation and Technology (EIT) announces the 41 nominees for the EIT Awards 2018. 
All across Europe, excellence is accelerating, with women entrepreneurs making up more than 40% of the nominees.
The Awards ceremony will be held in Budapest on 4 October during the EIT's annual Innovation Forum, INNOVEIT. The 41 nominees represent the most promising entrepreneurs and innovators in Europe. Each nominee has been selected for driving European innovation through ground-breaking products, projects and services that tackle global challenges in the fields of climate, energy, digitalisation, food, health and raw materials.
This year's nominees come from: Austria (1), Belgium (3), Bulgaria (1), Canada (1), China (2), Colombia (1), Denmark (1), Egypt (2), Estonia (1), France (4), Germany (2), Greece (2), Hungary (3), Iceland (1), Italy (5), Latvia (1), Mexico (1), Spain (3), Sweden (2), Switzerland (1), The Netherlands (1), United Kingdom (1) and the United States (1).
Read the press release in Dutch (Belgium, the Netherlands), French (Belgium, France), German (Austria, Germany), Hungarian, Italian, Spanish and Swedish.