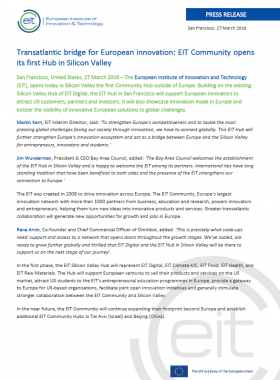 The European Institute of Innovation and Technology (EIT), opens today in Silicon Valley the first Community Hub outside of Europe.
Building on the existing Silicon Valley Hub of EIT Digital, the EIT Hub in San Francisco will support European innovators to attract US customers, partners and investors. It will also showcase innovation made in Europe and bolster the visibility of innovative European solutions to global challenges.
Martin Kern, EIT Interim Director, said: 'To strengthen Europe's competitiveness and to tackle the most pressing global challenges facing our society through innovation, we have to connect globally. This EIT Hub will further strengthen Europe's innovation ecosystem and act as a bridge between Europe and the Silicon Valley for entrepreneurs, innovators and students.'
Jim Wunderman, President & CEO Bay Area Council, added: 'The Bay Area Council welcomes the establishment of the EIT Hub in Silicon Valley and is happy to welcome the EIT among its partners. International ties have long standing tradition that have been beneficial to both sides and the presence of the EIT strengthens our connection to Europe.'
The EIT was created in 2008 to drive innovation across Europe. The EIT Community, Europe's largest innovation network with more than 1000 partners from business, education and research, powers innovators and entrepreneurs, helping them turn new ideas into innovative products and services. Greater transatlantic collaboration will generate new opportunities for growth and jobs in Europe.
Rene Arvin, Co-founder and Chief Commercial Officer of Omnibot, added: 'This is precisely what scale-ups need: support and access to a network that opens doors throughout the growth stages. We've scaled, are ready to grow further globally and thrilled that EIT Digital and the EIT Hub in Silicon Valley will be there to support us on the next stage of our journey'.
Press Release: Transatlantic bridge for European innovation: EIT Community opens its first Hub in Silicon Valley