Digital transformation is changing our economy and our personal lives. Every day we use digital technologies and services that rely on networks on which digital data is transmitted. We all want fast and easy access to the digital world, but we also want networks and services built on them to be secure. Digital transformation by providing secure, robust, responsive and intelligent communications and computation facilities are at core of the EIT Digital - Digital Infrastructure action line.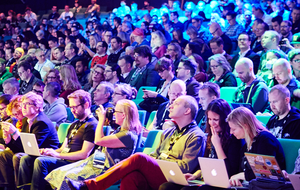 At Internetdagarna 2016 that takes place in Stockholm on November 21-22 EIT Digital will present how Infrastructure is driving Europe's digital transformation.
The conference programme features international keynote speakers: world-known security expert Mikko Hyppönen, F-Secure, and Daniela Rus, Director of the Computer Science and AI lab at MIT.
EIT Digital is organising the following panel sessions:
European Trusted Cloud - Secure and robust storage of data
Mobile broadband for the masses and mobile broadband in the air
Disrupting current business models of IoT
Robustness - headache of tomorrow or today?
Each session has business experts, researchers and representatives from industry and government who benefit from the Digital Infrastructure innovation projects carried out by EIT Digital. Prominent panellists includeMats Nilsson, Director of GF Technology and Cyber Security Lead Ericsson,Robin Wilton, Internet Society's Technical Outreach for Identity and Privacy, Richard Oehme, Director of the Office of Cybersecurity and Critical Infrastructure Protection of Swedish Civil Contingencies Agency and Jan Höller, Fellow at Ericsson Research and a long standing evangelist on Internet of Thing.
During breaks, and in parallel to the panel sessions, attendants can visit the expo area at the Stockholm Waterfront Congress Centre. There you will meet the ten startups that are pitching for the EIT Digital Challenge finals intended for Infrastructure later in the evening. They compete for the opportunity to become part of EIT Digital's unique pan-European innovation network, join the EIT Digital Accelerator for a full year, and receive a cash prize of €50,000.
Stay tuned by following #drivingdigital #IND16
Internetdagarna - The Internet Days - are organized by The Internet Foundation in Sweden. At the Internet Days, people who shape the internet today and in the future will meet for two days and a dozen different tracks and joint key notes by acclaimed top international names in digital culture, tech, good causes, research and innovation.
Organised by:
Internetdagarna 2016