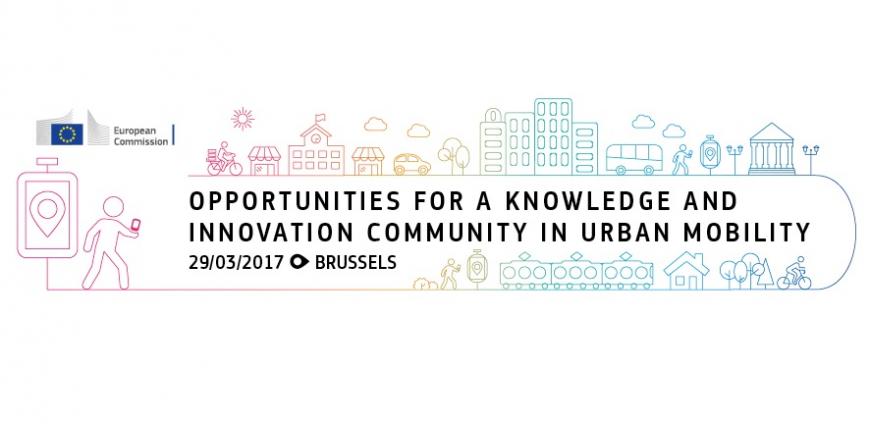 Urban mobility is going through a rapid transformation in European cities. Citizens want demand-driven mobility for freight and passengers, accessibility, and affordability. New urban mobility services and systems and cleaner, more efficient vehicles making cities a better place to live in. Innovation offers new ways to achieve our environmental, climate and transport targets and create opportunities for businesses – an estimated 1.8 trillion EUR market by 2020.
The European Commission recognises the essential roles of entrepreneurship, skills training, business development, and demonstration actions to develop and test new urban mobility solutions.
At this event, the European Commission welcomes representatives from businesses, research centres and universities to enable world-class education, innovation and entrepreneurship to thrive in Europe.
Participants will have a unique opportunity to build networks with other key players in the field and hear about plans for a potential EIT Innovation Community in Urban Mobility, which is planned to be published by the EIT in early 2018. An EIT Innovation Community brings together businesses, research organisations and universities, so this initiative would be well suited for supporting urban mobility. It would also complement ongoing European actions in investment, networking, regulation and R&D.
Approximately 150 participants from a wide range of organisations are expected:
Universities, local, regional and national authorities, other public and private organisations that are working in urban mobility.
SMEs, start-ups and large companies.
Participants of ongoing initiatives and intermediaries /facilitators in the field of urban mobility.
What are the EIT's Innovation Communities?
The EIT's Innovation Communities are partnerships that bring together businesses, research centres and universities. These partnerships, which are also relevant for urban mobility, allow:
innovative products and services to be offered
new companies to be started (for example spin-offs from research organisations)
a new generation of entrepreneurs to be trained
Possible benefits of an Innovation Community in urban mobility
The key objective of an Innovation Community in urban mobility is to ensure a greener, more inclusive, safer and smarter urban mobility system. With over 70 % of EU citizens living in urban areas, there is paramount need to invest in up-to-date urban transport systems: the European Investment Bank estimates about 40 billion EUR annually.
At the same time, congestion in European cities costs 1% of EU GDP, leading to poor air quality and loss of revenue. Sustainable urban mobility can only be achieved if breakthrough innovations leading to greener, more inclusive, safer and smarter solutions are found.
New mobility solutions in cities create opportunities for businesses – a worldwide, annual market worth an estimated 1.8 trillion EUR by 2020.
Background
The EU's 2011 Transport White Paper describes EU targets for reducing the negative impacts of urban mobility and it further reinforces the importance of taking action in this domain during the next decade.
An Innovation Community on urban mobility draws on a solid technological and industrial base and offers a potential for new products and services, in particular in the fields of sustainable planning and eco-industries.
The Innovation Communities carry out activities that cover the entire innovation chain: training and education programmes, reinforcing the journey from research to the market, innovation projects, as well as business incubators and accelerators. Each Innovation Community brings together leading European stakeholders from industry, academia, and policy in regional European nodes under a 7-15 year commitment to generate significant impact on European growth and competitiveness.
There are currently six Innovation Communities: EIT-Climate-KIC (climate change mitigation and adaptation), EIT Digital (ICT), EIT InnoEnergy (sustainable energy), EIT Health (healthy living and active ageing) and EIT Raw Materials (sustainable exploration, extraction, processing, recycling and substitution) and EIT Food.
The publication of calls for future Innovation Communities, such as urban mobility, will depend on a positive outcome of the EIT mid-term review as set out in Horizon2020 which is expected for mid-2017.
Each Innovation Community has been set up as a legal entity and has appointed a CEO to run its operations. The EIT has provided the Innovation Communities with a large degree of autonomy to define their legal status, internal organisation and working methods, and the Innovation Communities have been conceived so that they are able to react in an effective and flexible way to new challenges and changing environments.
---
Catch up with the latest news from the EIT Community in the Newsroom.
Subscribe to the EIT Newsletter to get the best of the EIT Community's news in your inbox once each month.
rue des Tanneurs, 60A Brussels, 1000 Belgium
Organised by:
European Commission