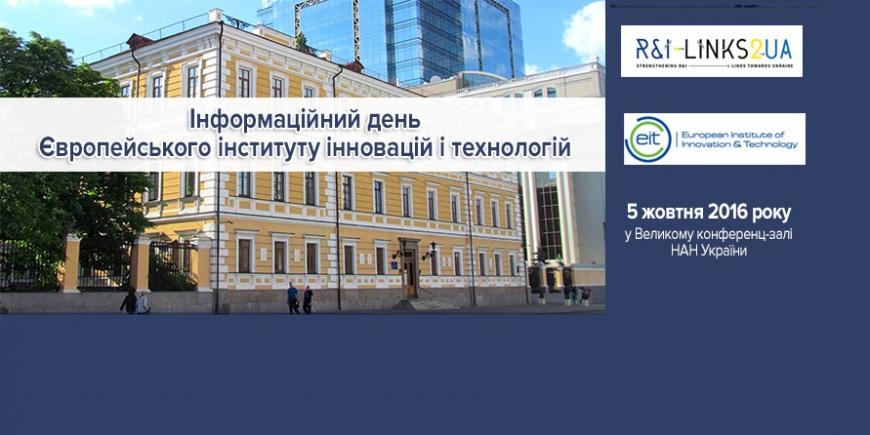 The National Academy of Sciences of Ukraine together with the Ministry of Science and Education and the Ministry of Economy and Development is organising an awareness raising event on 5 October 2016 in Kiev.
The aim of the event is to inform national stakeholders about EIT and KIC activities as well as about possibilities how to get involved.
During the meeting, participants will be able to get insights from representatives of the KICs and will receive an update on future plans from Martin Kern, the EIT's Interim Director.
The language of the meeting is English.
For more information (in Ukranian), including on how to register, please click here.
The European Institute of Innovation and Technology (EIT) has the objective of strengthening Europe's innovation capacity through the so-called KICs (Knowledge and Innovation Communities) covering the knowledge triangle of research, education and innovation. The EIT is no new funding instrument for individual projects, but supports the set-up and the activities of the KICs across Europe. The KICs are the EIT's operational units and working in cross-disciplinary areas of strategic importance. In the KICs, the three sides of the knowledge triangle are interconnected allowing for new forms of cooperation and synergies. An emphasis is placed on entrepreneurship and start-ups.
Catch up with the latest news from the EIT Community in the Newsroom.
Subscribe to the EIT Newsletter to get the best of the EIT Community's news in your inbox once each month.
Great Conference Hall, National Academy of Sciences of Ukraine (NASU), 55 Volodymyrska St., Kiev, Ukraine