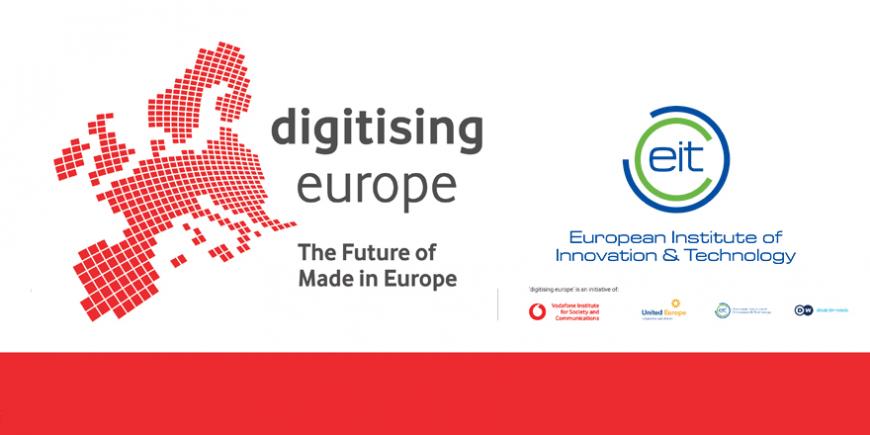 The EIT is partnering with the Vodafone Institute for the Digitising Europe Summit
Europe still stands out with regard to fit industrial leadership, social market economy model, inclusive and open societies and robust democracies, but the European Union faces multiple geopolitical, economic and societal challenges. Maintaining Europe's competitiveness and ability to innovate in light of fast-paced digitisation and increasing competition with China and the US will be crucial to the future of the European idea.
Thus, the Digitising Europe Summit wants to inspire a debate on "The Future of Made in Europe - Advancing Europe's vision of a social market economy for a digital age". How can European governments, businesses, academic institutions and civic society shape the digital transformation of economy, society and policy on Europe's terms, grounded in European strengths and in shared values?
The EIT will be featured in the "Innovation Made in Europe Pitch" session. During the session, EIT Governing Board Chair, Dirk Jan van den Berg, will outline how "Innovation Made in Europe" can be nurtured through the EIT's unique pan-European EU initiative and cross-sectoral partnerships. EIT supported start-ups FibriCheck, Skeleton Technologies and tado° will talk about the positive impact of cooperation with EIT.
Programme
08:30
Registration
10:00
Opening film: The Future of "Made in Europe"
10:05

Opening statement

Nick Read - CEO Vodafone Group Plc

10:15

Political keynote

Dr. Angela Merkel - Chancellor of the Federal Republic of Germany

10:35

Session 1 - Economy

How do we innovate European core industries in digital economy?

12:30
Lunch break
13:40

Innovation made in Europe pitch presented by EIT

Dirk Jan van den Berg - Chair EIT Governing Board

13:50

Innovation made in Europe - Demos

Christian Deilmann - Co-founder and CPO tado°
Taavi Madiberk - Co-founder and CEO Skeleton Technologies
Bieke Van Gorp - Co-founder and COO Fibricheck

14:10

Session 2 - Society

How to re-define a new social contract for the digital society?

15:15

Session 3 - People

How to guarantee people's wellbeing in a digital age

16:00
Coffee break
16:30

Session 4 - Policy

How to define future-proof governance in a digital Europe

17:50
Closing remarks
18:00
Drinks & dinner followed by an after party