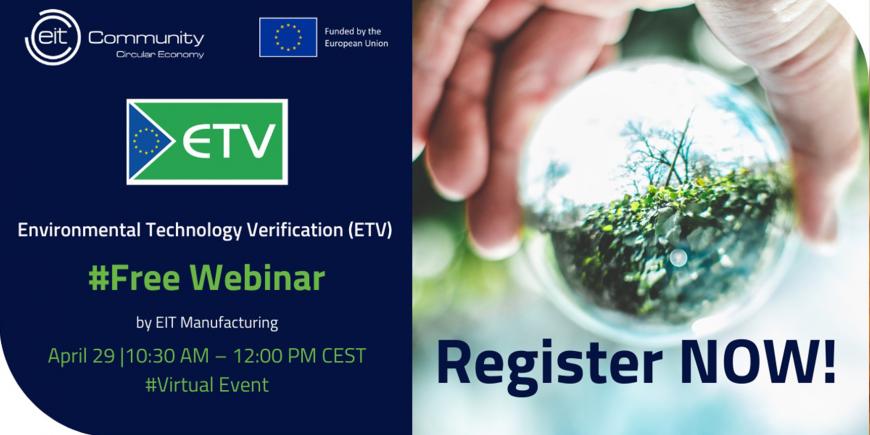 The EIT Community invites you to join the webinar dedicated to the Call on Environmental Technology Verification (ETV).
Transitioning to the Circular Economy is one of the main objectives of European society right now and the EIT Community will be one of the key stakeholders ensuring this important objective. This will only be achieved with a coordinated and efficient collaboration among the different EIT Knowledge and Innovation Community (KIC) to ensure a greater impact from the collaboration. That's why EIT Climate-KIC, EIT RawMaterials, EIT Digital, EIT Food, EIT Manufacturing and EIT Urban Mobility have joined forces to launch a project on Circular Economy.
This newly created joint project aims at strengthening the collaboration the EIT's Innovation Communities to fight climate change and promote circular economy. For starters, the project has launched a specific call on Environmental Technology Verification (ETV). ETV is a tool designed to help innovative environmental technologies access the market.
Curious to know more? Join this webinar on April 29 from 10.30 AM to 12.00 AM.
The webinar will include a presentation of the Circular Economy project and call description, a detailed presentation of ETV main requirements and finally a presentation of the new ETV Secretariat; the webinar will also include a specific final session for questions.
Agenda
Short introduction of the Cross-KIC Circular Economy Project and the ETV Support call | (10 minutes)
Ignacio Calleja, Senior Advisor Circular Economy and Recycling at EIT RawMaterials
ETV description ­| (30 minutes)
Izabela Ratman, ETV Expert
ETV Secretariat | (10 minutes)
Martin Pecanka, Senior Project Manager at LGI Consulting
Questions & Answers | (40 minutes)
For more details on the ETV call and application, please visit the dedicated page.