EIT Digital Conference - Driving Europe's Digital Transformation
Image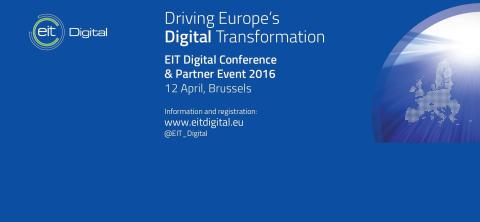 EIT Digital Conference and Partner Event 2016, Driving Europe's Digital Transformation, will be held in Brussels, at the Egg, on April 12 to 14.
Tuesday April 12, the EIT Digital Conference will be open to a wide range of EIT Digital stakeholders. It will showcase EIT Digital's achievements to date, and how we are taking a leading role in shaping digitisation in Europe.
The conference programme gives the floor to leading government and industry experts as well as entrepreneurs, bringing their experience with disruptive digital innovation. There will be the opportunity to join seminars and discussions on the next challenges for the digital economy. And EIT Digital will showcase at an exclusive exhibition more than 50 disruptive digital innovations. The event provides an opportunity for networking with attendees from a diverse range of organisations working in the digital ecosystem, representing large corporates, SMEs, leading technical universities and research institutes, as well as policy and decision makers from both the European Commission and public authorities. In total over 700 delegates are expected.
Click here for information on April 12 programme, hotels and venue.
REGISTER HERE to reserve your place at the EIT Digital Conference and Exhibition on April 12!
EIT Digital is looking forward to meeting you in Brussels!
The conference and exhibition will be followed by the EIT Digital Partner Event 2016 on April 13 and 14 with the overall theme: Sustained Impact. The focus of the Partner Event is on the Call 2017 and the Strategic Innovation Agenda (SIA). Partners will get in-depth information on the new SIA and the goals relevant for drafting entrepreneurial proposals in the workshops of the EIT Digital's Innovation Action Lines. The EIT Digital Partner Event on April 13 and 14 is restricted to EIT Digital partners only. Seats are limited and registration is by invitation only.