EIT @ Horizon Europe Hungarian Launch Event
Image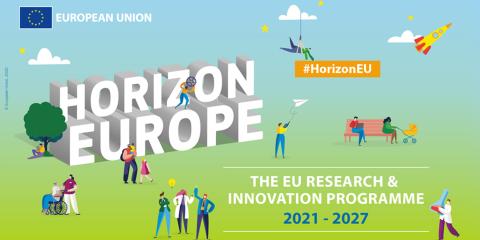 The Ministry of Innovation and Technology and the Hungarian National Office for Research, Development and Innovation will organise a high-level online opening event on 29 March 2021 to mark the forthcoming launch of Horizon Europe. The event presents the EU's most ambitious Research and Innovation (R&I) framework programme ever, with a budget of more than EUR 95 billion. In addition to the domestic results achieved during the previous framework programme, the event will present how targeted government measures, dedicated domestic resources and expert services can help Hungarian applicants to become even more successfully involved in the EU programme.
In order to increase the success rate of Hungarian businesses, knowledge centres, universities and research institutes, a new series of practice-oriented webinars has been launched by the Hungarian National Research, Development and Innovation Office.
During the launch event in Hungary, representatives of the European Commission and Hungarian policy makers will show how to support even more effectively tender participation. In addition, several successful Hungarian H2020 applicants and application evaluators will share their experiences in a panel discussion, after which it will be possible to ask questions to the relevant experts. Please, note that the event will be held in English.
Who? Speakers (among others) will include Mariya Gabriel, Commissioner for Innovation, Research, Culture, Education and Youth; Martin Kern, Director at the European Institute of Innovation and Technology; László Palkovics, Minister for Innovation and Technology (Hungary).
When? Monday 29 March at 10:00 to 13:15 (CET)
Where? Online
Participation in the online event is subject to registration. 
Agenda
10:00 - 10:30

Opening remarks

László Palkovics, Minister for Innovation and Technology in Hungary
Mariya Gabriel, European Commissioner for Innovation, Research, Culture, Education and Youth

10:30 - 10:45

How to boost successful Hungarian participation in the Horizon Europe programme? National incentives and measures

Dr. István Szabó, Vice President for Science and International Affairs, NRDI Office

10:45 - 11:05

Novelties under Horizon Europe including missions and a new approach towards European Partnerships (DG RTD)

Minna Wilkki, Head of Unit Missions and Partnerships at the European Commission, DG Research and Innovation

11:05 - 11:10
Q&A
11:10 - 11:30

Widening aspects of the European Research Areas and the Horizon Europe programme, synergies with other EU programmes

Ms Magda De Carli, Head of Unit, ERA and Country Intelligence, DG Research and Innovation, European Commission

11:30 - 11:35
Q&A
11:35 - 11:50

EIT under Horizon Europe

Martin Kern, Director at the European Institute of Innovation and Technology

11:50 - 11:55
Q&A
11:55 - 12:05
Coffee break
12:05 - 13:05
Roundtable: What are the main factors to be successful in the EU framework programmes
13:05 - 13:15

Closing remarks

Dr József Bódis, State Secretary for Higher Edication, Innovation and Vocational Training, Ministry for Innovation and Technology