EIT Investors Day @ Nasdaq
Image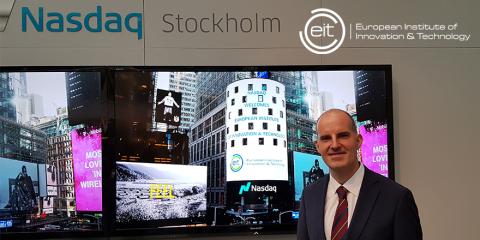 The EIT, together with Nasdaq, are organising an Investors Day for entrepreneurs powered by some of the EIT's Innovation Communities.
The event will provide EIT Community supported ventures with a unique opportunity to:
Pitch to selected investors and entrepreneurs from Nasdaq's ecosystem. 
Learn from companies listed on Nasdaq Stockholm and key relevant stakeholders about their experience in listing companies and successfully raising funds.
Speakers will include:
Niclas Homberg, MD Nasdaq Listing Sweden 
Adam Kostyal, Senior Vice President of Listing Services, Nasdaq
Rolf Nagel, Governing Board member, EIT
Lena Apler Jump, Chairman of the Board of Collector AB, Collector Bank and Colligent Inkasso AB
Kenneth Häggmark, CTO/Head of Innovation for Bublar
Selected companies already listed on Nasdaq - First North will learn about EIT Community business acceleration services and innovation driven research projects. These are offered through the EIT's Innovation Communities activities and the selected companies will find out how to join Europe's largest innovation network and benefit from EIT funding, EIT acceleration programmes, including investor readiness and expansion plans support services.
EIT Community ventures that have been selected to pitch at the Investors Day:  
Naava 
Apprl
Sensative
Talpa Solutions
Firstbeat
C Green
CorPower Ocean
Foreseeti
Samster
Phoenix BioPower
Advitos
Ontoforce 
Capitainer
Diabeloop 
Kinesis 
About Nasdaq - First North Stockholm
Nasdaq - First North was developed by Nasdaq Stockholm in 2006 as a marketplace for early-stage companies to grow both financially and organically. Nasdaq - First North is regulated as a Multilateral Trading Facility (MTF), with more flexible listing requirements than the Main Market, thus enabling smaller companies to access the capital markets while realising their growth potential.