EIT Nuts & Bolts - EIT Culture & Creativity webinar
Image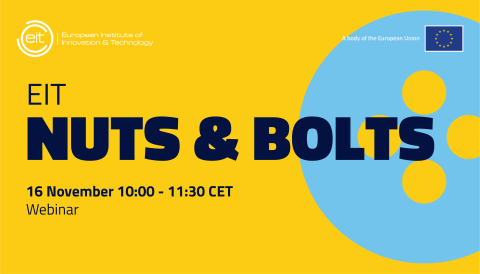 Join us on 16 November 10:00 - 11:30 CET for the second webinar on the Call for Proposals for EIT Culture & Creativity. 
During the second webinar in our series for the Call for Proposals, you will learn more about the EIT Funding model and how financial sustainability is at the core of the EIT model. Afterwards, we dive deeper into the EIT and Knowledge & Innovation Community Governance and the EIT Grant Lifecycle and the contractual relationships between the EIT and the Knowledge & Innovation Community. Finally, we will present the monitoring and evaluation instruments that the EIT uses. 
Please submit any question that you would like answered through our slido here. Questions that are not able to be answered during the seminar will be answered on our FAQ page. 
Agenda
TITLE 

SPEAKER 

Welcome & video 

Katerina Sereti – EIT Head of Section Stakeholder Relations 

EIT & KIC Governance 

(incl. Regulation, role GB, HQ, EC, ...) 

Adam Rottenbacher - EIT Chief Operating Officer 

Setting up a sustainable innovation ecosystem 

Laurent Roux – EIT Impact Officer  

The power of creativity  

Disruptive creatives 

Contractual Relations & EIT Funding Model  

David Tas – EIT Head of Unit Innovation Communities 

EIT Grant Lifecycle  

Manuel Irun Molina - EIT Head of Section Innovation Communities Management 

 

The EIT Impact Framework: Planning, Monitoring & Evaluation 

Eva Atanassova - EIT Head of Section Strategy 

Q&As 

All panellists 
Watch our second Webinar again!