EIT Urban Mobility Accelerator Pitch Awards
Image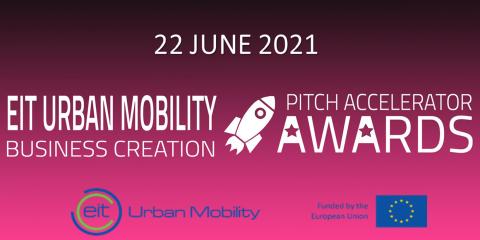 Join the EIT Urban Mobility Accelerator Pitch Awards
The EIT Urban Mobility Accelerator Pitch Award is the official closure of the Accelerator programme and 10 start-ups will get the opportunity to impress the jury and the audience with their product pitches. The top 10 start-ups will be selected in two ways: first, five start-ups will be selected from an open public voting and will go to the finals. The other five finalists will be nominated by the Business Creation Managers and Hub members based on their progress during the accelerator programme.
About the EIT Urban Mobility Accelerator Programme
The EIT Urban Mobility Accelerator is a EU-funded programme implemented through partners in five European regional hubs and its aim is to take early-stage mobility start-ups to the next level. Startu-ps have different business targets such as reducing congestion or increasing efficiency in the transport system which they try to achieve with innovative approaches to make commuting faster or more enjoyable, to accelerate the transition to low- or zero-emission forms of transport – and with all other possible ideas that help solve mobility-related problems.
The EIT Urban Mobility Innovation Hubs all over Europe supported 25 start-ups. Each start-up was granted with mentoring and consultancy services, workshops, networking events, and access to the largest mobility innovation community. All of them receive equity-free funding of EUR 15 000.
Meet the 25 selected start-ups and vote for your favorite one
About the event
The EIT Urban Mobility Accelerator Pitch Award will take place on 22 June, starting at 5 pm (CET) and it will be live streamed on the Streavent platform.
Save your virtual seat, register today
For more information, please visit the dedicated event page.