European Cooperation for Industrial Symbiosis
Image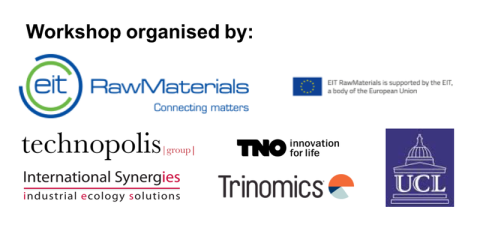 EIT RawMaterials will co-organise with DG Grow a matchmaking event related to different aspects related to the support of Industrial Symbiosis in Europe. The matchmaking event will include a presentation of different activities/measures and analysis aiming to support and facilitate Industrial Symbiosis.
The European Commission (DG GROW) has selected Technopolis Group, in consortium with UCL, Trinomics, TNO and International Synergies to conduct a study on cooperation fostering industrial symbiosis (IS). The aim of the study is to assess the market potential, good practice and potential actions to promote industrial symbiosis across EU, including testing the feasibility of an EU platform for industrial symbiosis.
Purpose of the workshop
The workshop aims to bring together key stakeholders in the field of IS, to present the study findings and have a dynamic in-depth discussion on key topics for the success of industrial symbiosis. Moreover, we want to showcase good practices from European initiatives of facilitating IS, market-based platforms, and policy actions supporting IS, and draw conclusions for future policy actions.
The workshop is funded by the European Commission and EIT RawMaterials.
AGENDA
09:15 – 9:45 Registration
09:45 – 10:00 EIT RawMaterials, Pier Luigi Franceschini (General Manager CLC South)
10:00 – 10:15 DG GROW – Fulvia Raffaeli, Head of Unit – The role of industrial symbiosis in the circular economy
10:15 – 10:30 DG Environment – Paola Migliorini – The role of Circular Economy Stakeholder Platform and industrial symbiosis
10:30 – 11:00 Presentation of study on IS Cooperation results (1): Defining IS and market analysis of Industrial symbiosis in Europe – Teresa Domenech, UCL; Matthew Smith, Trinomics
11:00 – 11:15 Presentation of study on IS Cooperation results (2): Mapping and assessment of IS in Europe: findings from facilitated networks (Teresa Domenech, UCL)
11:15 – 11:30 Q&A
11:30 – 11:45 Coffee break
11:45 – 12:45 Presentation of case studies and European initiatives
12:45 – 13:30 Lunch break
13:30 – 13:45 Presentation of study on IS Cooperation results (3): Drivers and barriers to IS & policies in support of IS in Europe (Laura Roman, Asel Doranova, Technopolis Group)
13:45 – 14:15 Case studies of policy support for IS
14:15 – 15:15 Breakout sessions discussing the study results
15:15 – 15:30 Breakout session results presented to the audience
15:30 – 15:45 Coffee Break
15:45 – 16:30 Roundtable and wrap-up: Moving forward: the role of EU in supporting IS cooperation; discussion of study and workshop results
16:30 – 16:45 Conclusions (DG GROW, European Commission)
16:45 – 17:00 Closing session.
Organised by
EIT RawMaterials and DG Grow