European Forum Alpbach TEC 2022: Manufacturing – a Driver for Sustainability and Innovative Growth
Image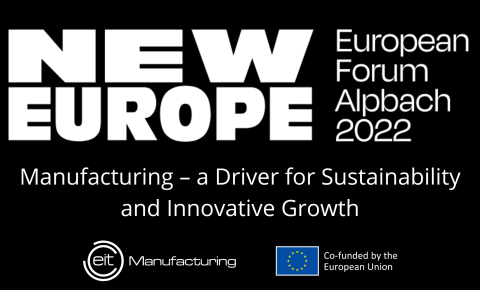 EIT Manufacturing kindly invites you to its session "Manufacturing – a Driver for Sustainability and Innovative Growth" at the European Forum Alpbach TEC 2022 on Friday, 26 August 2022, 15.00–18.00 CEST in Alpbach, Tyrol, Austria!
Manufacturing is a key industry for prosperity and growth in Europe. Sustainability goals, supply bottlenecks and increasing digitalisation; many factors impact industrial value chains and offer opportunities for technological innovation, new products and services. In two roundtables, top international speakers discuss the roles of industrial corporations and start-ups towards green manufacturing.
Roundtable I: Start-ups and Austria as a business location
Supply bottlenecks, digitalisation, sustainability – there are many factors that have a lasting impact on industrial value chains. However, these challenges are simultaneously enabling the emergence of new products and services in the production sector. What influence do start-ups have on the innovation ecosystem and how can they cooperate with large industrial companies? And will the big players in industry be the ones to significantly drive global trends in Austria or do start-ups have the greater potential to make Austria fit for the future as an industrial location?
Roundtable II: Circular Economy
Climate neutrality by 2050 – the European Union has set itself this ambitious goal. The EU Commission explicitly sees the Green Deal as a growth strategy, as the development, use and export of CO2-free technologies offer considerable potential for Europe as a business location and for international competitiveness. At the same time, the requirements of the Green Deal also pose major challenges for companies. What do the goals of the Green Deal mean from the companies' point of view? Taking circular economy as an example, we will talk about how companies perceive the role of innovation in implementing the Green Deal and to what extent international innovation communities are an important part of the transformation towards sustainable production in Europe.
The session "Manufacturing – a Driver for Sustainability and Innovative Growth" is part of the European Forum Alpbach 2022: Conference Week II TEC!