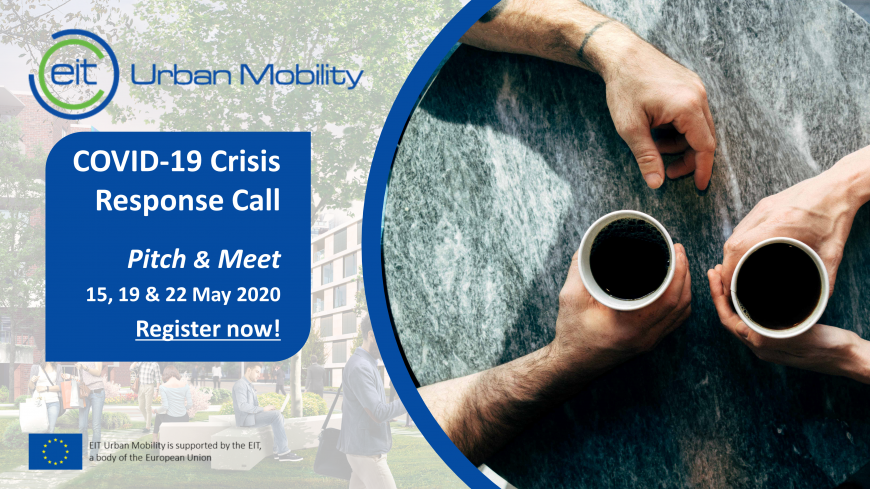 To facilitate project development and building new consortia to respond to EIT Urban Mobility's COVID-19 Crisis Response Call, a series of virtual "Pitch & Meet" events will be held over the next 10 days.
These events will bring together existing EIT Urban Mobility community members and new partners and innovators to share ideas and contacts.
When? 15, 19 and 22 May
15 May at 11:00 – 13:30 CET
19 May at 13:30 – 15:00 CET
22 May at 13:00 – 14:30 CET
Where?
Zoom (link will follow shortly)
For whom?
Any EIT Urban Mobility partner, project partner or Linked Third Party, as well as SMEs, industry, academics, public transit providers and cities:
Organisations with innovative ideas that are looking for partners to submit a proposal under the COVID-19 Crisis Response Call
Anyone who is looking to join a consortium and wants to scope out the competition and find collaborators
Register here to participate in the event as a listeners as well as to request to pitch and upload your 2 slides.
Partner search & networking tool COVID-19 Crisis Response Call
Visit the temporary website which helps to facilitate communication between existing partners of EIT Urban Mobility and those organisations that want to get involved in the COVID-19 Crisis Response Call.
The site is open for anyone to see and engage in, but is primarily for those interested in developing proposals and look for partners to join a proposal.
Share ideas and find partners! Check the tool here!