INNOVEIT Tallinn - Digital entrepreneurs and skills for Europe
Image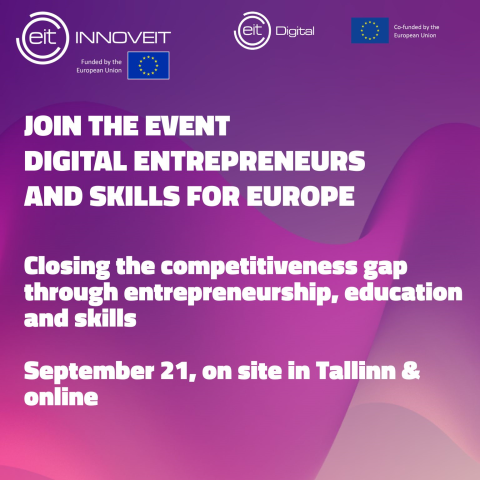 Discover the EIT's unique approach for creating Europe's future digital industry, and putting the education dimension into digital innovation and entrepreneurship. Gert Jervan, Dean at TalTech School of Information Technolgies, Vera Martinho, Director for Education and Impact at JA Europe and Joosep Vimm, Deputy Mayor of Tallinn will shine their light on how digital skills are transforming Europe. 
Digital and Green are they key priorities of the European Union and its Member States. Europe has to drastically catch up on digital entrepreneurship and digital skills. Digital touches upon all aspects of life and all economic sectors. Digital is not only at the heart of EIT Digital, but also a core innovation enabler in all domains where EIT Innovation Communities are active, such as digital health, green digital, the application of digital technology in industry and cities, as well as the digital enabling of the creative sector.
Find out how the EIT supports the creation of tomorrow's digital entrepreneurs and promotes a real change of mindset towards an entrepreneurial culture and attitude in Europe. Explore how the EIT Community invests into Europe's digital talent of tomorrow, supports future start-up founders and intrapreneurs, and makes an invaluable contribution to growth and jobs in Europe.
Agenda
| | |
| --- | --- |
| 08:30 – 09:00 | Registration and welcome coffee |
| 09:00 – 09:05 | Welcome words by Tiit Land, rector of Tallinn University of Technology |
| 09:05 – 09:20 | Fireside chat on the mission of EIT and its KICs (EIT Governing Board Member Laima Balčiūnė, CEO, Sunrise Valley Science and Technology Park & EIT Digital Supervisory Board Chair Linnar Viik) |
| 09:20 – 09:35 | Keynote – The Digital transformation of European industry (speaker tbc.) |
| 09:35 – 10:00 | Panel - The Digital transformation of European industry (Priit Kull, Owner of Inchworm Machines, Peeter Padrik, CEO of Antegenes & Veiko Karu, Senior Project Manager for EIT at Tallinn University of Technology, Ivan Cukerić, Project Manager at Edgeryders) |
| 10:00 – 10:10 | Music interlude |
| 10:10 – 10:35 | Fireside chat - Building European digital unicorns (Lauri Antalainen, VP and Board Member of EstBAN, co-founder and CEO of Digiwise) |
| 10:35 – 10:50 | Keynote – Entrepreneurial digital skills for Europe (Gert Jervan, Dean at TalTech School of Information Technologies)  |
| 10:50 – 11:30 | Coffee break & Open Day exhibition |
| 11:30 – 11:55 | Panel - How to make Europe an attractive place for digital talent? (Gert Jervan; Vera Martinho, Director for Education and Impact at JA Europe; Piret Liv Stern Dahl, EIT Community Strategic Education Cluster 'Human Capital and Entrepreneurial Skills' project manager / EIT Climate-KIC) |
| 11:55 – 12:05 | Music interlude |
| 12:05 – 12:15 | The digital transformation of cities in Europe – Joosep Vimm, Deputy Mayor of Tallinn |
| 12:15 – 12:30 | Closing keynote – A strong digital Europe – fair, inclusive, sustainable (Willem Jonker, CEO EIT Digital) |
| 12:30 – 14:00 |  Lunch & INNOVEIT Open Days exhibition |
INNOVEIT Tallinn is part of the INNOVEIT WEEKS event series, the flagship event of the European Institute of Innovation and Technology (EIT). Discover how the EIT, as Europe's largest innovation ecosystem is harnessing the power of innovation to address the urgent and critical challenges we face. Join us in one of our 10 events in 10 locations across Europe! For more information please visit: innoveit.eu