Meet the EIT Community in Bulgaria!
Image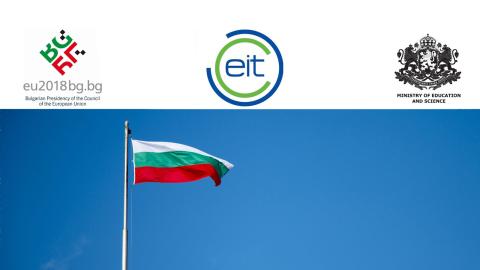 The Bulgarian Ministry of Education and Science and the EIT are organising an 'EIT Awareness Day' in Sofia to raise awareness of the EIT Community, its activities and, in particular, of cooperation opportunities among relevant national stakeholders.  
At this conference, the EIT Community will provide an introduction to its activities as well as specific information on potential areas for cooperation with interested national stakeholders. Organisations and individuals from all sides of the Knowledge Triangle (business, education and research) are invited to participate at the event and contribute to the discussions.
Speakers will include Petar Nikolov-Zikov, Vice-Minister of Education and Science of Bulgaria; Antoaneta Angelova-Krasteva, Director at European Commission Directorate General for Education and Culture; and Martin Kern, EIT Interim Director.
At the end of the meeting, national stakeholders will have the opportunity for bilateral discussions with representatives of the six Innovation Communities in climate, digital, health, energy, food and raw materials.
We look forward to welcoming you on the day.
Agenda 
09:30 -10:00

Welcome 

Petar Nikolov-Zikov, Vice-Minister of Education and Science of Bulgaria
Antoaneta Angelova-Krasteva, Director, DG EAC, European Commission

 

10:00 - 10:30

Introduction to the EIT, its achievements and activities 

Martin Kern, EIT Interim Director

10:30 - 11:15

Pitches: The EIT's Innovation Communities – How to get involved?

EIT Climate-KIC: Julia Panny, Programme Officer, EIT Regional Innovation Scheme

EIT Digital: Fabio Pianesi, Head of External Collaboration

EIT Food: Marcin Kardas, Program Manager, CLC North-East

EIT Health: Judit Hegedüs, Programme Director

EIT InnoEnergy: Christo Balinow, Business Development Director CEE and Middle East

EIT Raw Materials: Markus Klein, Business Developer CLC East

11:15 - 12:00
World Café: Meet the EIT Innovation Communities over a coffee
12:00 - 13:00

Panel Discussion: Experiences and insights – how the EIT Community can assist in enhancing innovation capacity / the ability to innovate in Bulgaria?

Georgi Dimitrov, Deputy Head of Unit (Innovation and EIT), DG EAC, European Commission
Kostadin Kostadinov, Advisor to the Minister, Bulgarian Ministry of Education and Science
Mariyana Hamanova, Co-Chairperson, CleanTech Bulgaria
Plamen Russev, Executive Chairman, Webit.Foundation
Milena Stoycheva, CEO, JA Bulgaria
Sasha Bezuhanova, Founder and Chairperson, MOVE.BG

Moderator: Martin Kern, EIT Interim Director

13:00 - 13:15

Wrap-up

Yordanka Fandakova, Mayor of Sofia 

13:15 - 14:30
Networking lunch
14:30 - 15:30
Targeted bilateral meetings with EIT Community Representatives (subject to prior registration on the registration page)