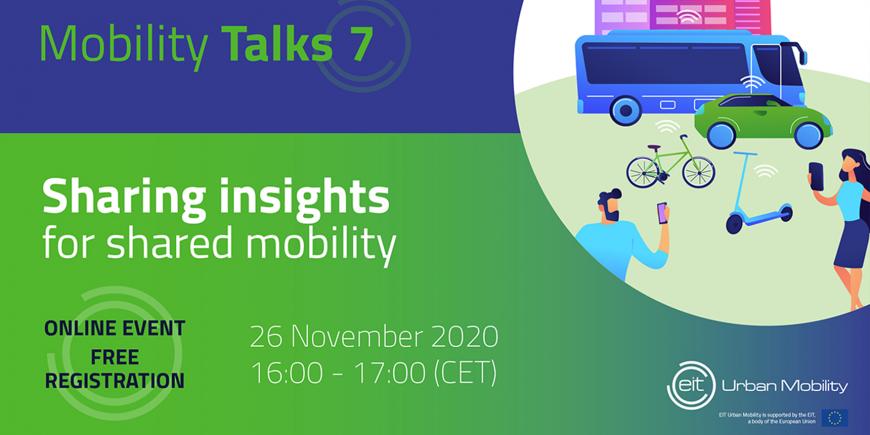 Next 26 November at 16:00 (CET), EIT Urban Mobility and its community will gather together again for the Mobility Talks episode 7: "Sharing insights for shared mobility".
Mobility Talks is the new brand of EIT Urban Mobility, consisting of a series of online events, addressing urban mobility innovations and their impact on the liveability of cities. These inspiring online gatherings provide a platform for international experts to share relevant and useful insights about the mobility sector. The ultimate goal is to create a fruitful ecosystem, facilitate connections, and build an international network in the mobility sector.
The webinars started as a response to the COVID-19 pandemic, with the aim of keeping the EIT community and stakeholders informed and involved and to stay connected with all interested audiences.
The webinars are recorded and are available on EIT Urban Mobility YouTube channel.
Any person interested in these topics is free to get involved! Join the seventh episode of the series, get involved and help EIT Urban Mobility to overcome the new challenges we are facing.
Meet the speakers
Mar Alarcón, Founder & CEO Social Car
Mar is a digital entrepreneur always venturing into innovative and disruptive sectors with social and environmental impact. She is currently the founder and CEO of SocialCar, a peer to peer technology platform that pioneered in the sharing mobility sector. Among its partners, SocialCar counts with RACC, UBER and AXA. The company has overcome regulatory risks and consolidated the concept of distributed peer to peer car sharing in Spain.
Lucas Casasnovas, Managing Director SEAT MÓ
Lucas Casasnovas is the Managing Director of SEAT MÓ & CASA SEAT. He has close to 25 years' experience in the automotive industry, mainly at SEAT and Volkswagen Group, in several Sales and Marketing positions in Spain and Germany. From his position, Casasnovas leads the business unit and strategy for 'new mobility' products and services and has contributed to redefining the company's portfolio to adapt it to new trends in urban mobility.
Don't hesitate more! Register now and see you next 26 November 2020 online at 16:00 (CET).