Register now: EIT Culture & Creativity: Creating new innovation opportunities for the video game sector
Image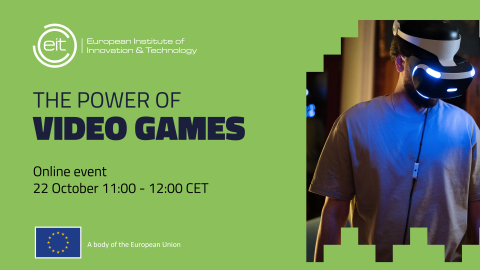 The European Institute for Innovation and Technology (EIT) is getting ready to launch a call for proposals for its newest Knowledge and Innovation Community, EIT Culture and Creativity. The EIT will work together with Europe's dynamic culture and creative sectors and industries to boost innovation like never before.
Join us online on 22 October to learn more about this innovation opportunity, the aim of the newest innovation community and meet bright innovators already working in the field!  
The session is co-organised with the Interactive Software Federation of Europe and the European Games Developer Federation.
Who should join?
Organisations from the Video Games Industry interested to learn how they can be involved in the upcoming Call for Proposals for EIT Culture & Creativity, as well as in opportunities that will become available after the launch of the new KIC in 2022.
Agenda
Introduction
Welcome
Moderator Simon Little, CEO, Interactive Software Federation
Setting the scene - what's in it for you? 
Lucia Recalde Langarica, Head of Unit, Audiovisual Industry and Media Support Programmes, DG CONNECT
EIT - Europe's largest innovation ecosystem
Martin Kern, EIT Director
Testimony by an innovator supported by the EIT Community 
Panel discussion: How can the EIT make innovation happen in the Cultural & Creative Inudstries? 
Lucia Recalde Langarica, Head of Unit, Audiovisual Industry and Media Support Programmes, DG CONNECT
Martin Kern, EIT Director
Koopee Hiltunen, EGDF board member and director of Finnish games association neogames
Q&A