Second Info Session on the HEI Initiative and Pilot Call for Proposals
Image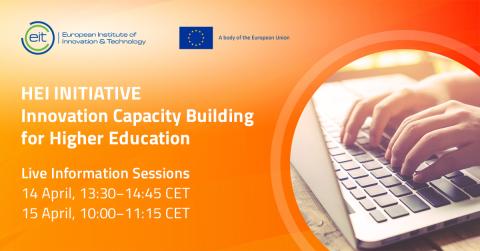 Want to know more about the HEI Initiative: Innovation Capacity Building for Higher Education? Join the dedicated webinar and unlock the full innovation potential of your Higher Education Institute.
Registration deadline: 14 April 2021 - 15:00 (CET)
The HEI Initiative aims to reinforce the competitiveness of Europe by strengthening the innovation and entrepreneurial capacity of higher education institutions (HEIs) and empowering them to become key actors in innovation ecosystems.
A Pilot Call for Proposals was launched on 24 March and will close on 25 May 2021. We call for HEIs to create individualised action plans which take a long-term view toward innovation and entrepreneurial capacity. These action plans will be designed on the basis of an HEInnovate self-assessment for each HEI, in order to drive the choice of Actions proposed for funding and institutional change.
The EIT Community will select up to 23 pilot projects from this Pilot Call for Proposals. Pilot projects will have a duration of 24 months and be eligible to receive up to EUR 1.2 million per project.
More information on the pilot call for proposals can be found here
This webinar will consist of two topics:
Eligibility, Evaluation and Administration: We will take you through the eligibility and pre-defined requirements in the Pilot Call, in order to clearly present what is expected and answer any questions you may have.
Defining your Innovation Vision Action Plan – Orientations for a successful proposal: You will receive relevant information on how to best define your project's vision and prepare an effective action plan to achieve the expected institutional change by unlocking the HEI innovation and entrepreneurship potential of a successful consortia.
This Info Session will present the HEI Initiative and Pilot Call for Proposals in more detail. Participants will have the opportunity to ask questions to the HEI Initiative Team.
Register today!
Date of webinar: 15 April 2021, 10:00 - 11:15 (CET).
Register for this info session by 14 April 2021 - 15:00 (CET)
Please, note that you will receive the link via email on 14 April 2021 after successfully completing the registration.