The European marketplace for sustainable energy innovation
TBB. is a two-day international networking event that connects leading industries and bright minds from business start-ups, leading energy companies and SME's to enable tomorrow's sustainable energy solutions today.
TBB. provides a unique opportunity to network with industry leaders, share knowledge, gather inspiration from renowned speakers and become part of an exclusive community of game-changers.
You will discover the latest market trends, innovative technologies and business models that are changing the way that we deal with energy.
You will be exposed to over 130 groundbreaking innovations to enhance your company's technology roadmaps and access to new markets.
Optimise your company's R&D investment and minimise risk, by collaborating with our exhibitors, early-stage companies and projects that have been through InnoEnergy's demanding process, reinforcing their potential and chances of commercial success.
Make your mark and contribute to creating the future of sustainable energy and accelerate your chances of success. The future of sustainable energy is already happening. TBB. provides you with the opportunity to be part of it!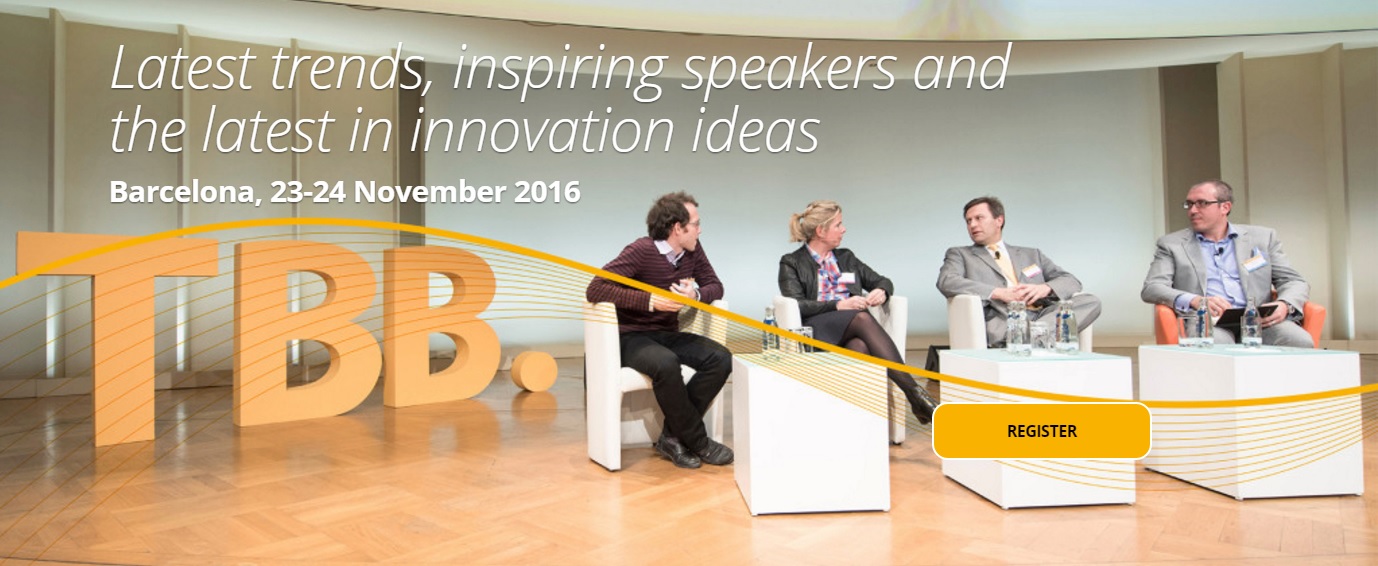 Not registered yet for TBB? Find out 5 reasons why you shouldn't wait!
​Innovation meets industry
Industry will have the chance to visit over 150 sustainable energy innovations under one roof, all of which have the potential to enhance technology roadmaps and provide opportunities to enter new markets. Discover TBB.2016 exhibitors
Key note speakers
Peter Carlsson, angel investor and former Vice President of supply chain at Tesla motors will join as the Key Note Speaker to provide delegates with his valuable insights on the direction of the energy industry. TBB.2016 Speakers
Debate and deliberation on "The Changing Business Models of the Energy Sector"
We have lined up a number of renowned speakers to talk on the topical theme of "The Changing Business Models of the Energy Sector", including John Raspin, partner Frost & Sullivan, Antoine de la Faire, Director of Group Strategy at ENGIE and Marie Fossum Strannegård, VP, Head of Energy and Utilities at Ericsson. TBB.2016 prelimminary programme
Brand new – Open Innovation Village and roundtable
This year, for the first time, we will be inviting select industry representatives – which are leading the way in terms of changing their business models through open innovation – to exhibit and join us for a round table discussion. Don't miss your chance to hear representatives from Schneider Electric, VEOLIA and ENGIE.
Networking at the social dinner
Last but not least, we encourage you to register for The Business Booster now in order to secure your spot at the Social Dinner – this is well and truly a highlight of the two day event, and one that should not be missed.
Av. Diagonal, 661-671, 08028 Barcelona
Organised by:
KIC InnoEnergy