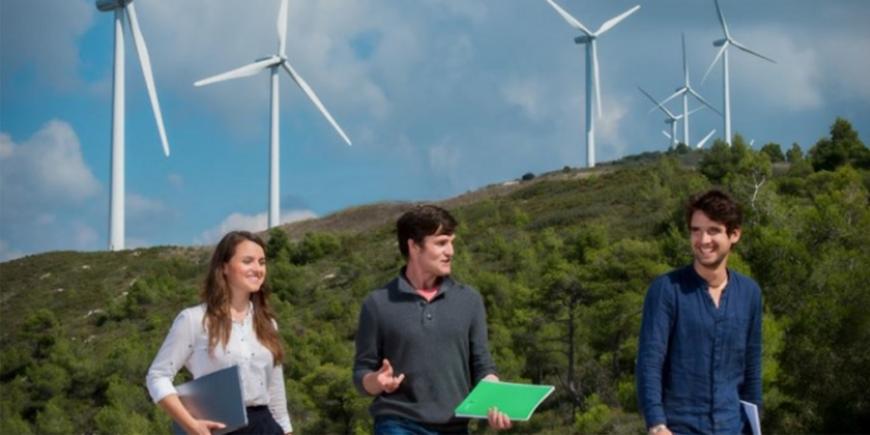 With an end to the Europe-wide lockdown in sight, it's time to look forward to beginning a new version of our former social/work lives – and to a widespread economic recovery.
Europe is once again at the forefront of the energy transition with plans already underway that will create significant opportunities in the sustainable energy sector. The following pieces are falling into place, highlighting the pivotal role of sustainable energy (and the need for well-trained energy engineers) during the post-pandemic recovery and beyond:
A green recovery
Yes, images show blue skies across Europe; however, climate experts warn against confusing air quality with climate change. Despite appearances, climate change is not slowing down during COVID-19 crisis – it's only a temporary lowering of emissions. When we return to "business as usual", we must ensure that the economic recovery doesn't undo all the previous hard work put towards climate goals. The European Parliament wants Europe's future to be green and sustainable, so members have resolved to use the European Green Deal as the cornerstone of the EU's recovery. They want to kickstart the economy sustainably and create jobs to protect key industrial sectors while pursuing an ecological transition. Thus, sustainable energy will play an integral part in this green recovery.
Discover what EIT InnoEnergy is doing against COVID-19
An alliance that creates opportunities
The EU Parliament, together with big names from politics, industry, the European Trade Union, and the private sector – including EIT InnoEnergy's CEO Diego Pavia – have signed the Green Recovery Alliance (on 14 April 2020) that builds upon the European Green Deal. This new alliance places sustainable energy at the heart of Europe's economic recovery, creating countless opportunities in this sector for years to come, and thus jobs for trained young professionals. Dr Frank Gielen, Education Director of EIT InnoEnergy, shares: "Turning Europe into a climate-neutral continent in three decades was already a daunting task. We will need to fill hundreds of thousands of new jobs and roles by 2030 to meet energy demands and reduce emission targets as expressed in the Green Deal, which has not changed. By 2050, it will be millions. This new alliance simply reinforces our resolve to utilise sustainable energy to recover post-pandemic."
A fast-growing sector needs energy engineers
Signatories of the new alliance are committed to investing in solutions that are aligned with climate commitments while reviving the economy. With sustainable energy innovation at the very centre of the agenda of EU governments and industry – this sector is ramping up, creating an urgent need for trained energy engineers. EIT InnoEnergy Master School will continue with its mission to prepare the next generation of energy engineers via innovation and entrepreneurship training, which now becomes even more vital. EIT InnoEnergy and its partner institutions have already developed and put in place state-of-the-art face-to-face and online learning capabilities. This ensures the continuity of their programmes and the ability to shape the future of sustainable energy with their students.
As Dr Gielen explains, "A traditional education will not be sufficient as we need to move more people and human capital into the Green Deal faster. Only institutions that have a proven track record in combining digital learning with real life challenges can prepare these future players for the task ahead. Right now, we are creating a scalable, networked learning infrastructure that will implement specialised learning enablers and 'Green Deal Digital Learning Spaces' tailored specifically to meet the priorities areas of the Green Deal plan."
With these essential elements all coming together to ensure a smooth and prosperous green recovery from COVID-19 in Europe, it's the perfect time to find out what part you can play in this exciting process!
Meet EIT InnoEnergy's Education Director
Interested in playing a role in Europe's green recovery? Apply to our Master's programmes before 07 June and join our webinar:
A green recovery from the COVID-19 pandemic
Speaker: Frank Gielen – EIT InnoEnergy Education Director
Date: 15 May
Time: 15.00 CEST.
EIT InnoEnergy Master programmes are prepared to start the autumn 2020 semester on time (either online or face-to-face)