Workshop - Empowering women in urban mobility to go beyond
Image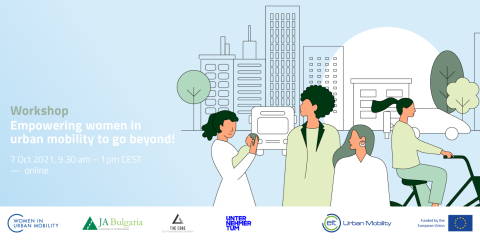 Join EIT Urban Mobility half day virtual workshop on empowering women to raise awareness and take action in the urban mobility sector!  
Women in Urban Mobility is a joint project of UnternehmerTUM Munich, Universitat Politécnica de Catalunya, Carnet Barcelona and Junior Achievement Bulgaria, funded by EIT Urban Mobility. Our vision is to create a unique network of urban mobility experts across Europe and raise awareness for female perspectives and gender equality in the urban mobility sector.  
In this workshop we will empower you through entrepreneurial thinking and acting.
The workshop will begin with a discussion round with women experts and female role models in urban mobility. Afterwards you will learn how to use the Entrepreneurial Empowerment Canvas to focus and give shape to your personal empowerment profile.  
The workshop will tackle the following topics:  
How do I develop my entrepreneurial mindset and inner attitude?
Which entrepreneurial skills do successful female leaders have, do I already have and which of them could I develop strategically?
How to identify the critical nature of self-knowledge, to clarify and articulate my core values and how to have the energy for articulating and achieving my aspirations.
What are my "empowerment hacks" and how can agile tools support me in my daily life?
What do I now need to start up and "drive my life"? 
We are looking for local and international women who are:  
Professionals
Entrepreneurs
Students and scientists
Decision makers
Interested in the gender perspective in urban mobility  
Benefits for participants:
Professional networking
Entrepreneurial knowledge
Learn how to focus and give life to your ideas
Exchange of experiences and know-how  
To ensure time for interactivity during the workshop, all participants have to prepare online course material in advance!   Stay up to date and sign up for our Women in Urban Mobility Newsletter. Click here!