Budapest with the EIT is a Central-Eastern European innovative education hotspot!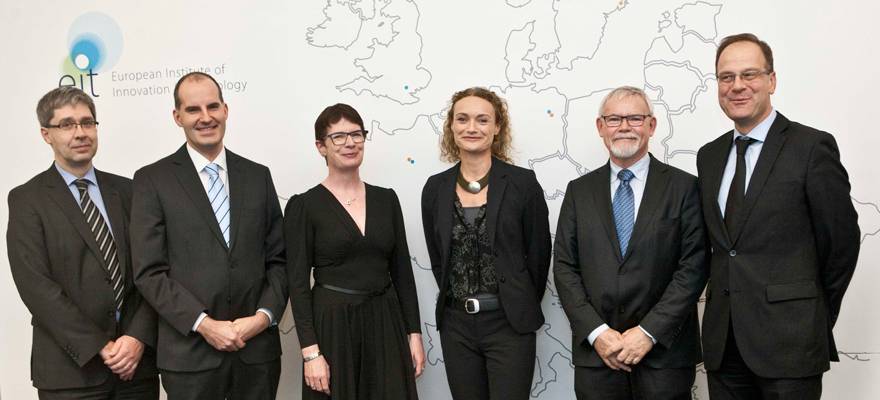 Today, Tibor Navracsics, new European Commissioner for Education, Culture, Youth and Sport, visited the European Institute of Innovation & Technology (EIT) and EIT ICT Labs in Budapest. "The EIT and EIT ICT Labs in Budapest offer a unique approach to education that is focused on the development of entrepreneurship and innovation skills, helping to boost innovation in Europe and create new, high quality jobs. This is exactly what Europe needs," said Commissioner Navracsics. Applications for the EIT ICT Labs Master School programmes in Budapest and other EU cities are open until 15 January 2015.
Commissioner Navracsics, who took office on 1 November 2014, visited the EIT, an independent EU body based in Budapest since 2010. Together with Peter Olesen, Chairman of the EIT Governing Board, and Martin Kern, EIT Interim Director, he met young Hungarian and other Central-Eastern European innovators who benefit from EIT ICT Labs activities in Budapest.
"Education is one of the key pillars of our innovation activities. We have developed an education model that is tailored to the needs of the European innovation system and which strongly connects students with business and research," says Martin Kern, EIT Interim Director. "The hallmark of EIT educational programmes at Master and PhD levels is not only to educate students to have technical knowledge, but also how to apply this knowledge to solve real life problems, to become more innovative and entrepreneurial," added Kern. To date, over 200 students have already graduated from EIT-labelled degree programmes across Europe, with many more to come as the EIT is rapidly expanding its activities and reach.
Read the full Press Release: English and Hungarian.
Photos from the visit: http://eit.europa.eu/newsroom/tibor-navracsics-new-european-commissioner-education-culture-youth-and-sport-visiting-eit