Business impact with mixed reality - Apply to the PHD position at EIT Digital Doctoral School!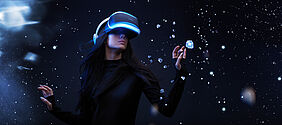 ART: a framework to support the development of Mixed Reality services and applications for interaction-intensive environments
Mixed reality, a combination of virtual and augmented reality, is attracting increasing interest. Yet, its adoption and business impact are limited. That is where this industrial doctorate position comes in. EIT Digital Doctoral School is looking for a PhD candidate who is fascinated to enable more effective mixed reality services. The candidate will work at Telecom Italia – TIM under the academic supervision of Politecnico di Milano.
Mixed Reality is a combination of Virtual Reality (VR) and Augmented Reality (AR). While VR is digital-only, AR  takes place in the real world that is augmented by computer-generated information like images, animations, holograms and audio overlaid on the view of the surrounding space.  Mixed reality is the richest form of AR experiences, characterized by smooth integration of physical and digital elements, and a high level of interactivity through gaze, movements, mid-air gestures and voice. MR exploits a gamut of technologies ranging from Multimedia to the Internet of Things, Artificial Intelligence, and Computer Graphics.
Though the interest in MR is growing, its adoption and business impact are still limited. The limitation of MR exploitation for large scale business concerns two main dimensions: Interaction Design and Technology. One of the main limitations in current approaches is the lack of "natural perception" when users interact with the mixed space.
Innovation
The industrial doctorate will develop ART: an innovative methodological and technological framework to help in the design and development of interaction intensive Mixed Reality environments that offer the "right" interaction affordances and contents to users. This should allow them to experience a real-virtual mix naturally and effectively.
The main focus will lie in the design and development of innovative methods and technologies to enable more effective Mixed Reality services and be integrated as software components in the target framework.
Thanks to the PhD work:
service developers will create MR environments using the ART framework, choosing the right interactions for each target scenario;
TIM service platform assets, which are part of a more general 5G Digital Business Platform strategy, will be used to create two concrete prototype applications to validate the approach with real customers and users;
the designed MR applications will offer more natural and engaging experiences to end-users.
Approach
The PhD candidate will be strongly connected to an EIT Digital Innovation Activity (IA) on Digital Cities led by TIM and a research group at PoliMI. This IA will result in a start-up that delivers a mixed reality solution to enhance the tourism segment in the post-Covid19 era.
The student will also be in contact with TIM business team, to help collect customer needs and expectations. The student will be asked to coordinate and tutor a few M.S. students working on the same topic, helping him towards the PhD results.
Expected outcome
The minimum expected Academic outcomes are:
3 publications per year at top-level international conferences in the areas of VR, Multimedia and Computer graphics, Human-Computer Interaction
2 publications in top-level international journals
a final thesis, reviewed by a review committee composed by PoliMI faculty members and reviewers from universities abroad
In addition to scientific publications results, the main concrete outputs of this PhD will be:
Contribution to the development of the ART framework to support the fast creation of interaction-intensive MR applications and services. The framework will be developed on top of well-known development tools and is meant to offer easy-to-use components enabling interaction-intensive features.
Two running MR-enabled application prototypes developed using the framework where multiple characters (real end-users and "bots") interact through different interfaces exploiting several paradigms: touch, gestures, manipulation, natural language. The two identified services will address Digital Tourism and Digital Entertainment.
Validation of the solution through one pilot involving real customers. The testing phase will be the final part of the PhD work and used as validation of the student results.
Business impact
To TIM, the main telco company in Italy, Mixed Reality is one of the key technologies to exploit the power of its new 5G network, offering new solutions to be added in its digital service portfolio. Results coming from this activity can improve TIM MR business:
providing advanced expertise on MR-enabled services;
offering more natural and engaging experiences to end-users;
supporting faster MR application development, reusing tools and software components made available in the MR framework, decreasing development costs.
Location and international mobility
The doctoral student will be located at the TIM Open Innovation Lab in Milano. During the research, the PhD candidate will work from different other universities as well. Potential institutions are the VR/AR of the Technical University of Berlin, the Mixed Reality Laboratory of the University of Nottingham, the Electronic Visualization Laboratory at the University of Illinois in Chicago, and the Computer Graphics and User Interfaces Laboratory of the Columbia University in New York. In addition to the industrial doctorate research, the PhD student will also be following leadership seminars.
Facts
Industrial partner: Telecom Italia - TIM
Academic/research partner: Politecnico di Milano
Number of available PhD positions: 1
Duration: 3 years
This PhD will be funded by EIT Digital and Telecom Italia - TIM
Apply
The full description of the PhD position is to be found in this PDF called ART: a framework to support development of Mixed Reality services and applications for interaction-intensive environments.
If you are interested in applying to this position, please
Complete the EIT Digital application form here;
Apply on the relevant University system
Author - Karin Oost