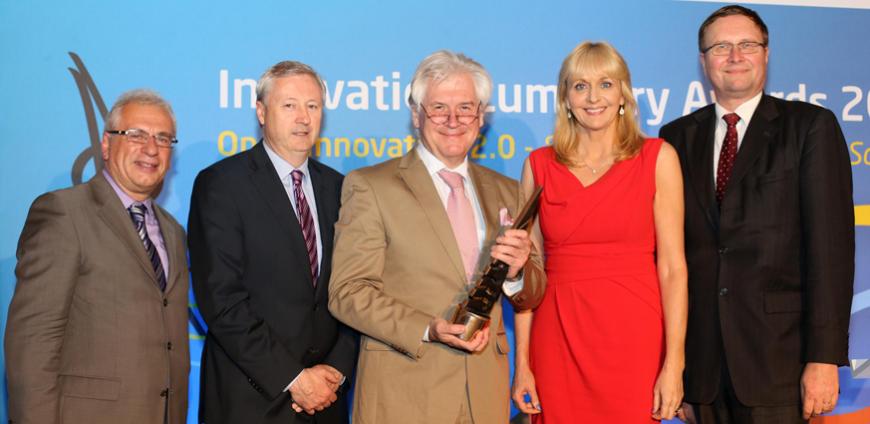 The inaugural Innovation Luminary Awards took place at Trinity College Dublin, Ireland during the 'Open Innovation 2.0' conference and Alexander von Gabain, Chairman of the EIT Governing Board, was awarded the Luminary Award for Serial Entrepreneurship.
As a successful entrepreneur, but also as a renowned scientist, Alexander is now dedicated to sharing not only his experience with us but perhaps more importantly his passion for to spread innovation across the EU. It is therefore with great pleasure that I am congratulating him on this well deserved Award for Serial Entrepreneurship.José Manuel Leceta, EIT Director
The first annual European awards for innovation leadership were held in Trinity College as part of this week's Open Innovation 2.0 Conference. The awards and a new Innovation Luminary Academy were established by the EU Open Innovation Strategy and Policy Group (OISPG) to celebrate and recognise outstanding innovation role models and to inspire the next generation of innovators.
The academy was initiated with the support and sponsorship of Intel Labs Europe, DG Connect, European Commission, and Dublin City Council, and established in association with the Innovation Value Institute and the International Society for Professional Innovation Management. Those receiving the awards became the first members of the Innovation Luminary Academy.
The Full List of Inaugural Innovation Luminary awardees is as follows:
Serial Entrepreneurship - Professor Alexander von Gabain (DE)– Chairman, European Institute of Innovation &Technology & Chairman, IntelCell AG High
Performance Innovation - Peter van Manen (UK) – CEO McLaren Formula 1 Electronics
Innovators Courage - Professor Stephen Hawking (UK)
Innovation Courage - Felix Baumgartner (Au)- RedBull Stratos
Business Model Innovation - Alexander Osterwalder (CH)– Inventor of the Business Model Canvas & Best Selling Author Ami de L'Europe - 21st Century
Industrial Innovation - Justin Rattner (USA)– Intel Chief Technology Officer
Creative Innovation - Rovio (FI) Mikael Hed, CEO
Innovation Thought Leadership - Professor Leif Edvinsson (SE) – New Club of Paris, University of Lund
Special Category: Irish Innovation Champion Recipient - Joan Mulvihill - Irish Internet Association
Press release