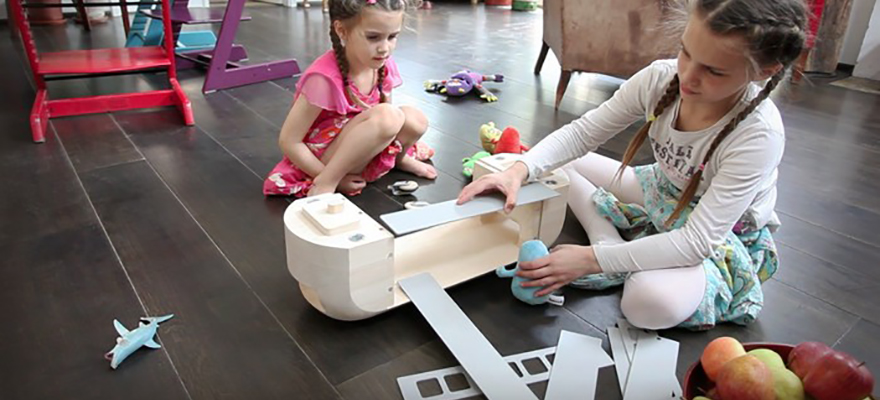 The team behind the EMBER Design Manufactory, participants in the 2014 Climate-KIC Accelerator programme, launched a Kickstarter campaign to source funding for its sustainable design toy, ROLLARK.
ROLLARK is an eco-conscious, multifunctional toy of high quality finish that fills a niche in the international marketplace. The name ROLLARK refers to the two main functions of the toy: ark and rolling vehicle. ROLLARK is an exciting object because its appearance is somewhere between a design object and a toy. However, it's much more than an everyday toy: it inspires both kids and parents for creative and imaginative play.
The toy's whole manufacturing process is driven by eco-consciousness. Raw materials are recyclable, the manufacturing process has zero CO2 emission, and finally, each ROLLARK sale is followed by planting a tree.
The ROLLARK campaign was launched on 11 August 2014 at the most recognized "crowdfunding" site of the world, at Kickstarter. You can also join in and buy your own ROLLARK here: https://www.kickstarter.com/projects/236750774/rollark-is-a-fun-wooden-toy-and-also-a-green-desig
István Policsányi, who dreamed up ROLLARK, is a designer graduated from MOME (Moholy-Nagy University of Art and Design, Budapest, Hungary); another Hungarian who has reached the absolute top of his profession. Recently he has won the world's most prestigious designer award, the Red Dot Award, as well as the Best of the Best Award in the category Mobility that is the most challenging subcategory of the Red Dot Concept Awards. The winner project is the design of an accessible passenger ship.
EMBER Design Manufactory is a premium products manufacturer where high quality products are designed and produced for both children and adults based on the following principles: the brand's philosophy is about protecting the earth in a sensible way by rediscovering our basic values.
For more information visit: