Climate-KIC: Connecting Naked Energy and Sainsbury's
Naked Energy's VirtuTm hybrid solar panel generates electricity and heat. With Climate-KIC's support this company was able to pitch its technology to hospitals, schools and retail estates. They are are now working with Sainsbury's Supermarkets Ltd on a pilot scheme.
Image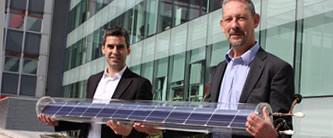 In 2011, Climate-KIC identified business start-up, Naked Energy, as having an innovative piece of solar technology capable of generating both heat and technology. Naked Energy went on to win the Climate-KIC venture competition last year and the EIT Entrepreneurship Award this year.
On further discussions about the technology and its potential, Naked Energy were awarded a grant from Climate-KIC to fund the measurement and testing of their solar technology. The testing was done in the mechanical engineering department of Imperial College London. As a Climate-KIC partner, the testing would be under the supervision of one of the leading technology design scientists within Imperial College.
Equipped with positive test results, the technology had scientific credibility. Naked Energy worked with the Climate-KIC team to present its new piece of technology to a selection of partners from the built environment industry to explore potential synergy.
These introductory meetings sparked interest and subsequently an agreement with major supermarket retailer, Sainsbury's was agreed. Based on further funding from Climate-KIC towards the manufacturing costs, Naked Energy were able to deliver a real-world pilot at a meaningful scale.
Climate-KICs role has been to identify opportunities, to match make and to open doors for us. It's like 'sheltered innovation'. Quite simply, our relationship with Climate-KIC allows us to sit at the table with the big players.  

Christophe Williams Managing Director, Naked Energy.
We know the UK. But there must be brilliant ideas out there we don't know about and Climate-KIC can bring these to us. We want to get involved at the embryonic stage in order to help shape the technology in a commercially meaningful way.

David Penfold, Sainsbury's Supermarkets Ltd.
To see the Climate-KIC make a real difference to innovative start-ups whilst also tackling the climate change challenge is truly inspirational. We are proud of what we were able to do to break down the barriers and are excited to track the growth of Naked Energy into the future.

Andrew Burford, Climate-KIC
Find out more about Climate-KIC's work with entrepreneurs.