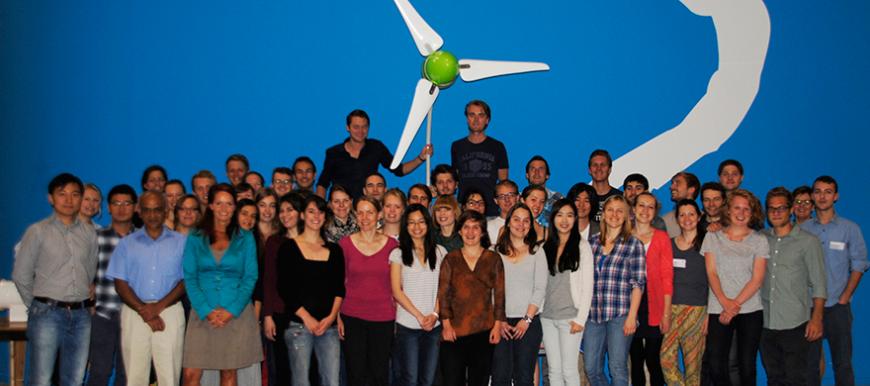 Nearly 300 students from 40 countries, representing 71 disciplines, will today embark on Europe's largest climate change education programme – the Climate-KIC summer school. The five week-long course will offer a unique combination of academic study and real-world business experience with the aim of creating the climate change leaders of tomorrow.
Encompassing 18 locations across Europe, this year's programme is Climate-KIC's largest summer school to date and is divided into six separate groups. Students from each group will journey across three countries, gaining insight and experience from a selection of Europe's best universities and most innovative businesses.
Climate-KIC's multidisciplinary approach to climate change mitigation and adaptation is reflected in the academic background of the summer school participants: Just 34% of the students have science and environment related qualifications with the majority specialising in business, humanities, architecture and other engineering courses from aerospace to construction.
The programme culminates in a challenge where students pitch their ideas for solutions to real-world climate related issues. Based on their own creativity and climate change knowledge, students must present a detailed business plan to a judging panel consisting of venture capitalists, start-up entrepreneurs and scientists.
Mary Ritter, Chief Executive Officer of Climate-KIC said: "People are crucial to our fight against climate change. One of our core aims is to nurture young talent and give today's students the tools they need to make an impact on the global effort to adapt to and stop further climate change. The Summer School will give students from a multitude of backgrounds a whole new skillbase and mind-set to equip them with the entrepreneurial skills that will really make a difference."
Partnerships
Building on successful partnerships with private companies such as Sainsbury's and Schiphol Airport in previous years, this year's participating partners include pharmaceutical company Bayer AG, Zugspitze meteorological institute, industrial biotechnical company Novozymes and leading window specialist VELUX.
Focusing on the transformation of the built environment, VELUX Group is hosting a site visit as well. Programme Director Lone Feifer commented: "We are keen to welcome the emerging talent pool of graduates that will be attending the Climate-KIC summer school. We especially look forward to entering a dialogue with the students and share insights on how innovation can help create more sustainable living in buildings and mitigate climate change."
Practical insights
82% of students from the 2013 summer school said the programme improved their understanding of the business opportunities resulting from the climate change challenge. Last year's summer school student Loulou van Ravensteijn from Wageningen University commented: "I had a fantastic time at the summer school, meeting and working with so many talented people from different areas has been very inspiring.
Especially the practical insights into the water management issues gave me clear insights into how my degree can help counteract climate change."
Throughout the summer school students will be given a thorough analysis of the challenges and opportunities presented by climate change through academic lessons and practical business and entrepreneurship tasks.
Over the next ten weeks, you can find out more about Climate-KIC's approach and follow the students on climate-kic.org/Journey2014.